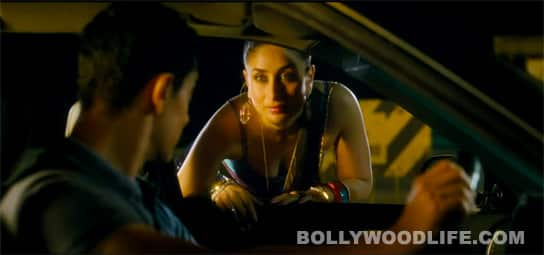 In the film's one-minute teaser the gorgeous babe dresses and behaves like the woman of the street…a Las Vegas or Los Angeles street, that is. But will she be doing more than just looking pretty and adding glamour onscreen?
Kareena Kapoor, after playing one role after other where all she had to do was dress in fancy clothes and shake booty to up the glam quotient of a film, has shed her classy act and gets down and dirty in Talaash. We don't mean getting 'dirty' literally, but figuratively, just like she did in Chameli. In the thriller's teaser, if you observe closely, the RA.One lady is wearing garish short skirts, skimpy tops, glossy make-up, blingy jewellery and making suggestive eye contact, just like a streetwalker would in a Hollywood film. Does that mean she is once again doing the hooker act? Perhaps yes, but it's a wee-bit different from the role she played in Chameli. In the 2004 film, Kareena's character was of a floozy right out of Kamathipura, the infamous red light area in Mumbai. In the forthcoming film she plays a sophisticated version as an escort girl, or so we heard from the gossip-vine, just like the ones you'd find on the notorious streets of a big city in England, the Netherlands or the US of A.
This will be a nice change from her bimbette roles in films like RA.One – where she was a mother doing a thesis on swearing in Hindi, how lame is that! We hope this part in Talaash manages to re-instill faith that we have in her acting skills. On the other hand, Rani Mukerji – who did the high-class hooker thing in Laaga Chunari Mein Daag – is seen in the avatar of a middle-class woman dressed in cotton saris and a worried expression, confined to household duties. Let's hope all these surprises live up to everyone's expectations, ours included, that are rising with every passing day.