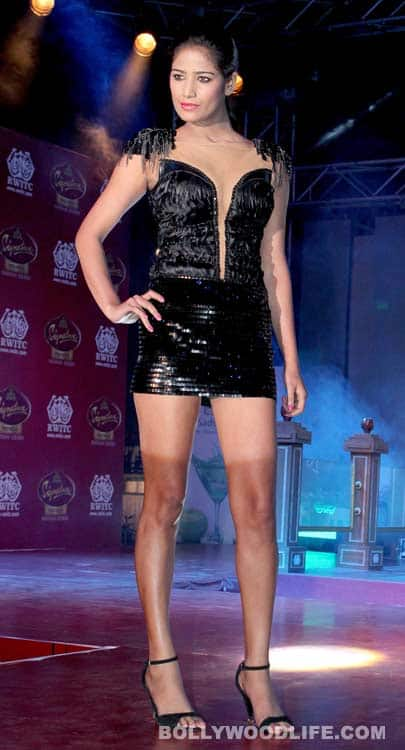 skip advertisement
Controversy's favourite child Poonam Pandey commits yet another faux pas with her outrageous fashion sensibility. It's high time the sensational babe hired a stylist, wethinks…
When Poonam Pandey turned up to promote her forthcoming erotic film Nasha, the babe actually surprised everyone with what she was wearing. The otherwise fascinated-with-itsy-bitsy-clothes gal was actually wearing a bodysuit beneath a weird looking shimmery top. Though the Pandey babe did not mind displaying her long legs, she was in no mood to show off much of her torso. We almost wondered if she was the same Poonam who had no qualms whatsoever about showing off her bosom or going pantyless in almost every picture she posted on Twitter. Remember, she has even gone butt-naked on several occasions, but for the promotion of her film the sexy siren opted for a cover-up job…a fully covering outfit, we mean!
Now that's just not fair, Poonam! You should know that your USP is that dare-bare act and you must flaunt 'it' to stay in the news, right? And hey, how come we didn't see you attempting to stage a possible wardrobe malfunction for the world to focus its attention on your upcoming movie? If you have changed your mind and want to be saleable by showcasing your sober side then please, Poonam darling, get yourself a stylist so that we don't need to see you in a disastrous outfit such as this one, ever again. Perhaps a certain Imam Siddiqui could work for you as an image/style consultant! But we are not sure if you can afford him post his much talked-about and highly controversial Bigg Boss stint. One can always try, no?
And if there is anyone who needs desperately to try, tis you, Poonam-doll!