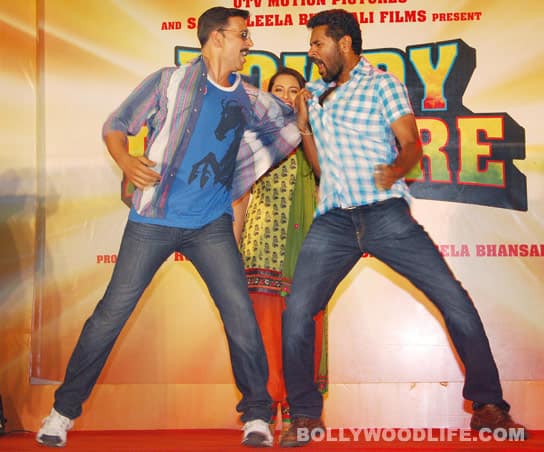 At Rowdy Rathore's trailer launch, the film's director received more ceetees from screaming fans than the leading actor. Hope Akshay didn't mind not being the centre of attention that night!
Instead of launching the first trailer of Rowdy Rathore in an upmarket banquet of a plush five-star hotel amid select people, Sanjay Leela Bhansali and UTV Motion Pictures settled for a maidan (playground) in the heartland of Mumbai, throwing open the event for residents from the highly populated neighbourhood. Remember Salman Khan too had launched the music of his film Ready in a similar style in a public ground, attended by several unnoticed staff members of Mumbai's Film City? Since we already told you that Akshay Kumar's Rowdy Rathore looks a lot like Salman's Dabangg, we are not surprised at the way RR's trailer was launched.
Everyone, from producers Sanjay Leela Bhansali and Ronnie Screwvala to the film's director Prabhu Deva to the lead actors Akshay and Sonakshi Sinha (both dressed like their respective characters) arrived in time for the much-hyped event. Soon after the first round of speeches, a gang of guys in the crowd began screaming out loud 'Prabhu'. The shy filmmaker was shocked that people were calling out for him. So, he turned around to look at his team members to check if he was hearing right. Then Prabhu, visibly embarrassed, waved out to the crowd. But that wasn't enough for the screaming fans, as their cries grew louder and this time they wanted the ace choreographer to show his magical moves. Initially Prabhu refused. Perhaps he thought he was taking away the attention from the star of his film, Akshay. But soon he gave in to the fans' demands and did a short jig. The one-minute dance show was good enough to calm down the people. But this episode left Prabhu pleasantly perplexed! From the south film star's expressions it seemed he was shocked to find a loud lot of his fans in Mumbai, the heart of Bollywood. But he's not the only one to be surprised. We too couldn't believe our eyes!
WATCH VIDEO