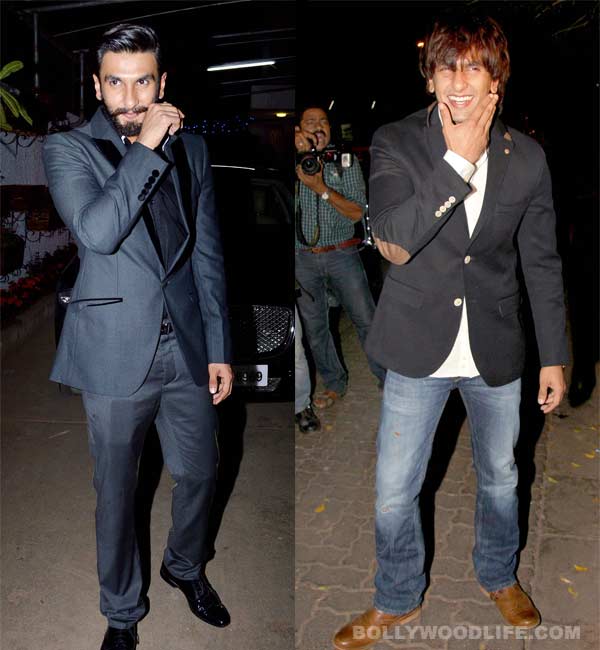 The Ram-Leela actor has finally bid goodbye to his handlebar moustache and we must say it's gonna take us as long as it will for him, to accept his more chikna look…
Ranveer Singh and Deepika Padukone's Ram-Leela hit the theatres, the critics' verdict came out and now, finally, Ranveer has shaved off his much discussed moustache. As long as we know the cool dude was bonded with his facial fuzz. He and it were inseparable for months together…even longer that the shoots and promotions of the blockbuster hit film lasted. The Band Baaja Baaraat actor, who was clean-shaven in that first film, grew out of his boyish look when he finally sprouted his mooch-daadi. And then he got so used to the handlebars that made him look like a true Indian mard, that he was moved to tears (okay, so maybe not quite that literally) when he had to shave it all off.
Ranveer was so attached to his facial hair that even though he sported a clean-shaven look in Lootera, he flaunted the fuzz during the promotions of the film he did with Sonakshi Sinha for Vikramaditya Motwane. We know actors get into their reel life characters to promote their films, but this Ram-Leela actor did quite the opposite at the time. So now that he's finally free of his facial hair, he's kinda shying away from the 'bugs. It's not us, but also Ranveer himself who is finding it difficult to accept his clean-faced look. At a recent event, the usually flamboyant actor looked quite camera conscious and ducked a bit, his new hairdo swathing over his face and that rather embarrassed grin. That's not all! The actor has also coloured his hair with streaks of brown and we aren't exactly a fan of his new look.
While Ranveer looked a hunk with his rough n rugged look, we can't say the same now that he is fuzz-free. Doesn't his nose look kinda bigger with his moustache gone? So you tell us, BollywoodLifers, do you like this Ram-Leela actor better with or without his moustache?