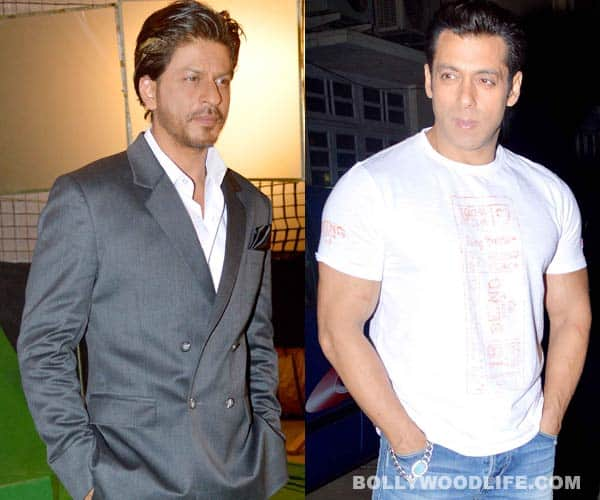 SRK seems to be a bit nervous about meeting his arch rival Sallu
It was one fateful night when the two leading Khans of Bollywood Shahrukh Khan and Salman Khan turned foes from being friends. And it has been more than five years since the two actors have been at war with each other and on occasion they have taken whips to each other too. But recently, when we heard Salman singing praises for his arch rival on Karan Johar's popular chat show Koffee With Karan 4, we thought that there could be a possibility of the warring Khans becoming friends again. And now we are almost sure that that's not gonna happen…ever.
Why? While the Dabangg Khan openly praised SRK on national television, Shahrukh doesn't seem to even want to talk about Sallu. Yes, you got it right! King Khan was at the Zee Cine Awards 2014 press conference yesterday (January 9), and was asked by one of the journalists whether he would be performing with Salman during the awards show. Rather than answering this question, SRK dodged it completely by saying, "Ye kitna puraana question hogaya hai! Kuch naya pooch lo…" (This question has become very old now. Ask me something new). Ignoring the matter, was he? Now that was not expected, especially since we know Shahrukh's wicked sense of humour, hai na? But this isn't the first time that Shahrukh has dodged the mere mention of Salman. If you remember, the two were at Mehboob Studios recently but Shahrukh, who was very cautious made it sure that he doesn't bump into Salman. Will the King Khan bridge the gap now that Salman has made moves to do so?
Does Salman make you nervous, Shahrukh?