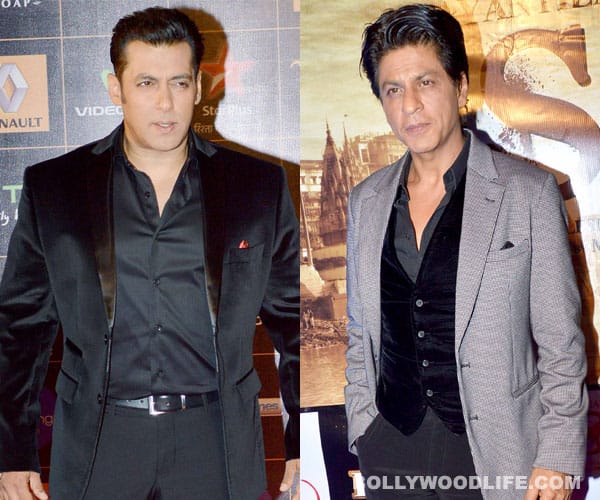 Once-upon-a-time-friends to arch rivals to trying-to-be-friends again, the equation between Sallu and SRK is as unpredictable as a tsunami, wethinks…
We all know about the Katrina Kaif birthday drama in 2008. Salman Khan and Shahrukh Khan got into a heated argument at the do and the rest made history that is still being discussed. Nobody is quite sure who said what to whom and why, but after the fight, the warring Khans made sure never to cross each other's paths. But things changed when the two superstars attended an iftaar party hosted by politician Baba Siddique. Sallu and SRK shared a warm hug and made up on the auspicious occasion….or so we would like to think, even though both sides have gone blue in the face insisting that it was sheer good manners with no real significance. We all went awwww seeing them together, remember? Since then the two haven't taken potshots that are too nasty at each other and have remained cordial. In fact, at the press conference of his reality show Bigg Boss 7, the bhai of Bollywood said that he wouldn't mind if the Chennai Express actor came on his show to promote his films. And very recently, the Dabangg Khan even revealed a secret about SRK – that his Karan Arjun co-star snored so loud that it kept everyone awake – as he chatted with viewers and his audience on the celebrity reality show.
While interacting with the contestants, Salman recalled the good old days and said, "While shooting for Karan Arjun, Shah Rukh, Sohail Khan, Bunty Walia, Sushil (a friend) and I were together in the room. Shah Rukh dozed off and started snoring. At first, we found it funny and started to laugh. But at about 3 am, we wondered what to do. We then slowly pushed him off the bed. He woke up, lost his sleep and we ended up sleeping really well."
Well, it's sweet that Salman still remembers the good times that he spent with his former 'good' friend. But at the same time we know that Salman is one of those people who forgives, but doesn't ever forget. So we wonder if the Being Human star shared the anecdote in a truly friendly spirit or whether he was just trying to poke fun at King Khan and make him look ridiculous by sharing the story on national television. We would prefer to believe that SK is trying to straighten out his friendship with his Kuch Kuch Hota Hai co-star, even though some devil inside us says it would be so much more fun – for all of our readers, of course! – if it was another chapter in the feud!
While it's hard to figure out, one thing is for sure – with Sallu miyaan, there is always more behind the bada pardah than meets the eye, hai na?