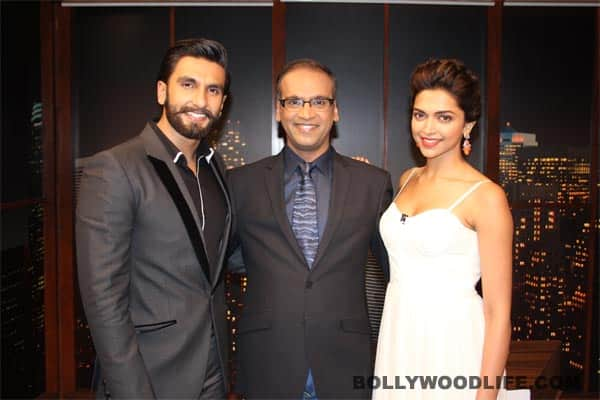 Deepika Padukone and Ranveer Singh could not resist spilling the beans about the Goliyon Ki Rasleela Ram-Leela director. The duo appear on film trade expert Komal Nahta's popular chat show ETC Bollywood Business to reveal behind the scenes secrets about the man who is known for making operatic dramas in his unique style…
Sanjay Leela Bhansali's creativity and his obsession to get every detail right can take a heavy toll on his actors. So meticulous is the man when it comes to what he wants that he can go to any lengths to make sure every frame works just the way he envisioned it.What creates a bit of a problem though is that the maverick film-maker is also subject to mood swings and even changes the script at the drop of the proverbial hat. "Working with Sanjay Leela Bhansali is very different. We would discuss in detail about the script and the next day he would change it all," said Deepika Padukone on Komal Nahta's popular chat show.
Ranveer Singh accompanied the leggy lass and had an interesting qissa about Bhansali's ever-changing mood and mind. "For me, the most difficult scene was to lie on cold water at five in the morning all ready to emote – and this scene isn't even in the film now! Sanjay Leela Bhansali has a very volatile creative process in filmmaking; he keeps improvising, he throws a lot of challenges at us, but also takes very good care of his actors," said the hyper-energetic actor.
The Ram-Leela stars did not hesitate to bust some media-created myths. While the whole world was speculating whether the two romantically linked stars – onscreen, of course! – were having amazing fun shooting for the film, Dippy and Ranveer were actually busy working to get their acts right to suit SLB's whims and fancies. "We have not had the time to even think about how the film will do. We have had an overwhelming and exhausting experience in the shoot itself," revealed Deepika
The actor recounted how SLB made her cry. "During the first day of my shoot, I cried seeing the two-page monologue that Sanjay sir was shooting in close-up – he had changed everything I had rehearsed for!" The gorgeous lady maintained how being with Ranveer helped her cope with the demands of SLB's magnificent production. "The only solace I found was in Ranveer, because with Sanjay Leela Bhansali it was not friendship, it was more like a guru-shishya relationship," she quipped.
Watch the entire interview on Saturday at 8:30 pm and catch the repeat telecast at 11 pm on ETC