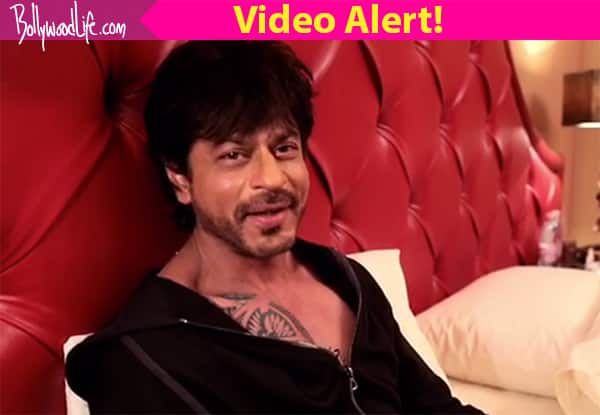 Okay, either it was a sly way of announcing the teaser release date of Dear Zindagi by Shah Rukh Khan or it's just him and Alia Bhatt trying new ways of torturing us with suspense around their upcoming film! Now this pattern is something we've noticed which seems like a strategy from SRK and Alia's side whenever they have to announce anything Dear Zindagi related. If you remember, even when the duo announced the release date of their upcoming film, it was through a Twitter chat. It was quite cool as they had a cute chat by sharing designed pics on the micro blogging site with questions and solutions from both their ends. When  Alia took to her handle and shared a video today, we knew it for sure that the reply would be from SRK and that too via a video. Just as we assumed, Mr Khan shared a video after quite a long wait, actually! But hey, we're used to waiting for the star!
So in the video, Shah Rukh said, "Hi Alia, yes Monday is my favourite day too. The seventh (smirks) favourite. This is the perennial mystery of life that how is it if Monday is so far from Friday in a weekend, Friday is so close to Monday. It seems Monday is a good punishment for a good weekend that we have. But now Monday is over so I can't do anything about it. But I promise you a wonderful Wednesday. Actually, an orange wonderful Wednesday. Just wait for Wednesday. And if it makes you feel nice, guess what. I have an off day on a Monday. All the best, I'm gonna chill. Bye bye Dear Zindagi!" Wait, so does that mean something is going to happen on Wednesday such as perhaps a teaser release or something? (ALSO READ: Shah Rukh Khan and Alia Bhatt chat on Twitter again and we're super SUSPICIOUS)
.@aliaa08 maybe the promise of another better day, will quell the Monday blues. Anything else???#DearZindagi pic.twitter.com/f0yPdY2dNS

— Shah Rukh Khan (@iamsrk) October 17, 2016
Just a few moments ago Alia had shared a video where she said, "Dear Zindagi, why can't Monday blues ever be happy? Why can't it be (thoughtful), why can't it be (looks at her pink sipper) pink? Or peach? Like Monday Pink or Monday Peach? You know what I mean, happy. Why can't it be happy?" That's a very legit question Miss Bhatt. Why is Monday always associated with blues? It could be a happy day as a genesis of a new week, new adventures, new, lots of things basically! So yes, we do agree with you Alia. However, we're not the pone she's expecting an answer from. So her life coach, SRK replied with a tweet, "Hmmm need to figure this out? Ok gimme a little time to brush my teeth, just woke up. Getting back to u."
However, he didn't reply for quite a while so a frustrated Alia tweetd back that she was waiting. To this Shah Rukh replied, "Yeah yeah yeah the imapatience of youth!!!" Well, is it just us or are you too loving this cute coach-student relationship that Alia and SRK are sharing in this film? In fact, their Twitter is also so full of adorable moments exchanged that it just makes the wait for December all the more difficult. If you notice, while Alia was in Mumbai as she made the video, Shah Rukh actually battled with his schedule to squeeze in time to make this video as he is currently in Europe, shooting for Imtiaz Ali's The Ring.
Well SRK and Alia, we can't wait for Wednesday! Stay tuned to this space for more gossips and latest updates!
Alia Bhatt and Kunal Kapoor's chemistry in Dear Zindagi is something we are looking forward to

Look at the adorable smile on Alia's face as Kunal whispers in her ears. This is a really cute still from the film.

Image credit: Facebook

We wonder what Alia Bhatt is thinking in this still from Dear Zindagi

Alia looks out of the window, thinking about something. Her smile is unmissable. Penny for your thoughts Alia?

Image credit: Facebook

The new still of Alia Bhatt from Dear Zindagi will make you want to embrace life with open arms

Clad in a red gown and standing by the sea, this new still of Alia Bhatt is the best thing to start your day with.

Image credit: Twitter

Alia Bhatt in a never seen before avatar in the new look of Dear Zindagi

Alia looks lost in deep thoughts in the picture. We love Alia's thoughtful look in this still and her new look with specs is something we are rooting for.

Image credit: Instagram

Alia Bhatt's new still from Dear Zindagi reminds us of Kareena Kapoor Khan

Alia's this sexy avatar in all black along with the fedora hat reminded us of Kareena Kapoor Khan in the song High Heels from Ki & Ka. The resemblance between the two is undeniable.

Image credit: Instagram

Alia Bhatt shares a picture with Shah Rukh Khan from 'Dear Zindagi'

Alia and Shah Rukh had fun time shooting for the movie and Alia shares it.

Image credit: Twitter

Alia Bhatt shares release date of 'Dear Zindagi'

Alia excitedly shared the release date of her and SRK starring 'Dear Zindagi'.

Image credit: Twitter