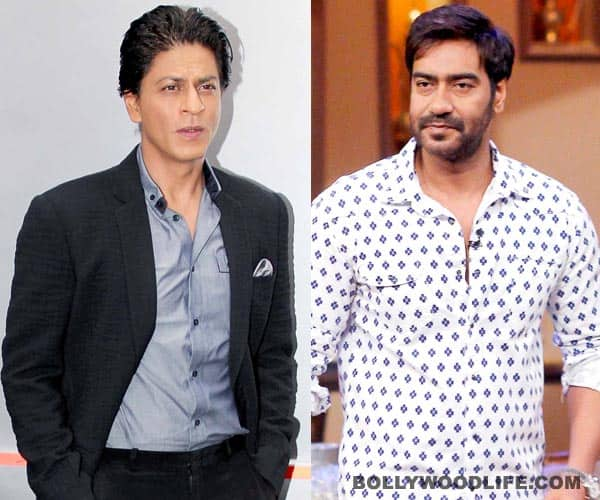 It certainly seems so, going by SRK's recent confession. Read on to know more…
It seems that Shahrukh is offering olive branch to Ajay Devgn. We all know that SRK is on the seventh heaven right now considering the amount of moolah his latest release Chennai Express has been pulling in and now he has wished the same for filmmaker Rohit Shetty's next flick Singham 2 which will star Ajay Devgn in the lead role.
"I would pray that Inshallah his (Rohit Shetty) next Singham 2 does much more business than Chennai Express because he deserves it," said the ecstatic actor in an interview.
SRK's comment came almost a year after Ajay Devgn accused Yash Raj Films, the makers of SRK's starrer Jab Tak Hain Jaan for their monopolistic trend of screening their films.
Last year, there was a huge controversy over twin Diwali releases – SRK's Jab Tak Hain Jaan and Ajay's Son Of Sardaar. The issue of screening of films and distribution had led to a tense fight with Ajay taking legal action against Yash Raj Films last year. This had resulted in a cold war between the two.
In a recent interview, Ajay in a not so direct way said that 'some' people in the industry are controlling theatres and not allowing other films to get them. Well it was very clear that this statement was for Yash Raj Films.
All we can assume is Shahrukh's well-wishing comment for Singham 2 might be the star's way of extending the olive-branch to Ajay, because it's a well known fact that SRK enjoys great bonding with Ajay's wife Kajol.