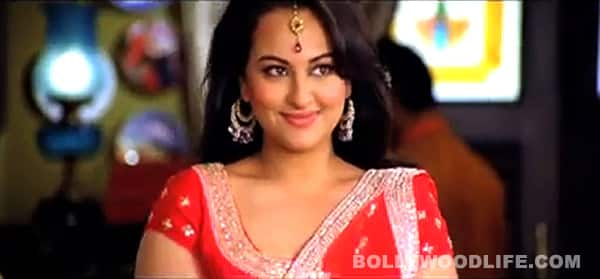 The Sinha babe looks like a million bucks in Chammak challo chel chabili from Rowdy Rathore, especially when she twitches her eyebrows and bites her lips to seduce Akshay Kumar. But she falls short in the hotness department
Sonakshi Sinha seems to be constantly aware of papa Shatrughan Sinha's watchful presence. If you have any doubts, watch the song from Rowdy Rathore, where she is supposed to have fun seducing Akshay Kumar. In the song, Chammak challo chel chabili, the babe wears a red sari a la Kareena Kapoor in Chammak challo from RA.One, with her palloo tucked to the side – revealing enough cleavage to get your eyes to pop. But she still doesn't manage to up the hotness quotient.
Kareena set the standards quite high when she pulled off the RA.One number on the strength of her jhatkas and matkas and a non-size zero frame. Vidya Balan too managed seduce her audience with a well-rounded body as she did an Ooh la la number in The Dirty Picture. But can Sonakshi Sinha manage to pull off a dance number with her heavy frame? We had our doubts…now justified.
Choreographed by Saroj Khan, the moves and expressions in the song do make Sonakshi look pretty, but she is obviously uncomfortable when trying to dance even those really simple steps. Since she's a tad bit too heavy to do vigorous dance movements, Saroj Khan has tried to make things easier for the actor by focusing on her face rather than her waistline.
Recently Sonakshi said, "Tastes differ from one person to the next, and while I don't claim that it's size zero, I know my waist is chikni." Nobody expects Sonakshi to be size zero anyway, no! But methinks she ends up looking much older than she is, in her current size and shape. I also think that her hips make a 'bigger' and 'sexier' statement than her waist.
In spite of being less than sexy in this number, the Sinha girl does manage to impress with the traditional filmi thumkas, and we liked the way she uses her expressions and her pretty face to undo the damage done by her awkward movements. Reminds us of Tabu, when she tried her hand at a dance number called Rang De in Takshak. Guess Sonakshi will have to rely more on her acting skills to survive this glamorous industry, or else do a quick and intensive course on the art of Bollywood dance. Since she didn't have much to prove in Dabangg, we'll have to wait and see if she manages to impress the audience with Rowdy Rathore.
Watch this video:
ALSO READ: