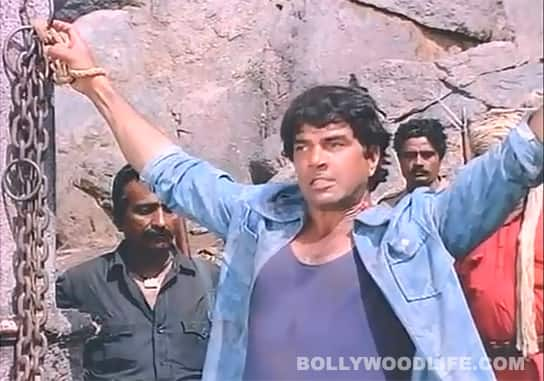 Do soapy, mushy dialogues of Hindi movies make you bawl? Now they will make you LOL!
When it comes to words, the Hindi movie industry is incomplete without these cult dialogues. Be it courtroom banter or a scene drenched in tears, there's one for every occasion. What's more, you will find at least one of these in 99.99 per cent of Bollywood movies. These are the dialogues you know by heart. Ever wondered how they might appear to the English-speaking audience? We did. And this is what we got! Must say, we couldn't wait to share it with all of you. Presenting the most unforgettable dialogues from Hindi movies, now in English! Say it aloud with full conviction and then, God save you!
Kanoon ke haath bahut lambe hote hain
The hands of the law are very long. (Attention Guinness Book of World Records!)
Ab inhe dawaa ki nai dua ki zaroorat hai
Now this one doesn't need medicine, he/she needs your prayers (Sigh!)
Kutte! Main tera khoon pee jaaunga
Dog! I will drink your blood (Ewwww!)
Basanti! Inn kutto ke samne mat nachna
Basanti! Don't dance in front of these dogs… (or, they might bite you?)
Bhagwaan maine aaj tak tum se kuch nahin maanga
God, I haven't asked you for anything till today. (So?)
Aiye ji sunte ho.. Aap bade woh hain
Aye dear, do you listen…. You are very that (eh?)
Main kehti hoon, door ho jaao meri nazron se
I tell you, go far away from my eyes! (Do I have conjunctivitis?)
Bhagwaan ke liye mujhe chhod do!
Leave me for God! (Why?)
Beti, bas ek bar tere haath peele ho jaye…
Daughter, just once let your hands get yellowed… (Then we'll wash them, no?)
Tere ghar pe ma-behen nahin hai kya?
Are there no mother-sister in your house? (Er, why do you ask?)