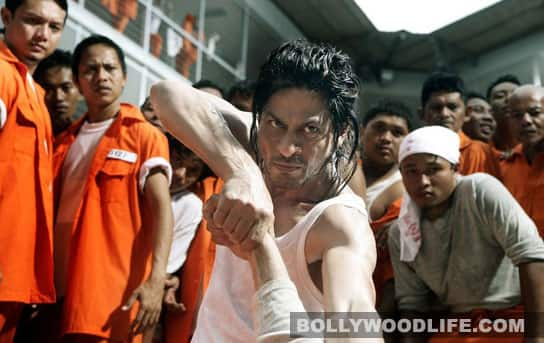 But for King Khan, Farhan Akhtar's sequel to his Don is a total waste of time. It has stunning visuals, slick action but little else
Don 2 is a treat for Shahrukh Khan fans – he carries this larger-than-life role with élan like only he can, but the story is a let-down. It starts off well and, if you liked the previous Don, your expectations rise every minute. But an hour into the film you start shifting in your seat, hoping that some magic spell will save it for you. Alas, nothing like that happens and by the time the film ends, you really don't care about anyone or anything going on onscreen, despite the twist thrown in towards the end.
Don 2 is in the same league as the Abhishek Bachchan-starrer Game, which was co-produced by Farhan Akhtar – a visual treat, yes, but that's it. The story in brief is that Don is annoying the bosses of an European drug cartel because he is jeopardising their business by selling drugs at a much lower price. The bosses send word out that Don must die, but they can't get him. For some unfathomable reason Don decides to surrender to the Malaysian police, a force manned mostly by Indians like Malik, Roma and her ridiculous assistant, a young man who keeps making passes at her and gets just a peck on the cheek for his pains. You later find out that Don is in jail to help Vardhaan get out so that they can con the world happily ever after. But there is a twist in the tale. No…make that many twists in the tale. Problem: they are all lame.
What was supposed to be a heist film turns out to be a semi-romantic/semi-action film. The antagonist is confused and so is everyone else. As is the back-story of Priyanka Chopra's character, Roma; how did she become a top cop and why does she still love Don, despite knowing that he killed her brother in cold blood. Boman Irani as Vardhaan is probably the most believable character in Don 2, the only person who knows what he wants. The rest are all confused. Don says he is tired of being the bad guy; Roma talks kinky with Don; inspector Malik (Om Puri) has decided to retire but, suddenly is back on the job; Kunal Kapoor as Sameer wants to help Don, but then he doesn't, then he does…!
It is hard to imagine that Farhan Akhtar, along with his co-writers Ameet Mehta and Amrish Shah, and the creative supervision of Javed Akhtar, came up with this no-brainer. The moment you take Shahrukh Khan out of the film, the Sachiin Joshi-starrer Aazaan looks like a classic. The music is another letdown and it seems that music directors Shankar-Ehsaan-Loy are in a slump. The two departments that come up aces are action and photography, both truly world class. That apart, Don 2 is quite yawn inducing, especially towards the end. Watch it ONLY if you are a hardcore Shahrukh Khan fan. As for the 3D hype – if SRK is not your favourite hero, all you get is a bad headache.