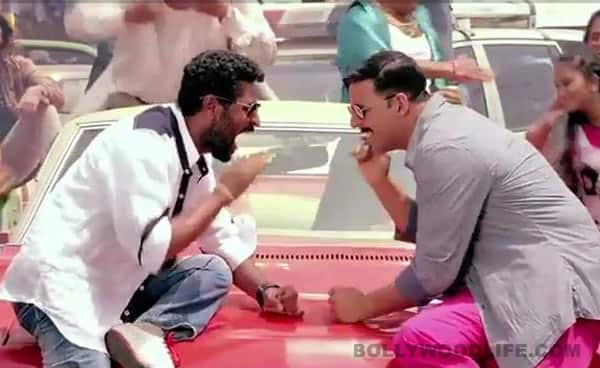 Cineswami mulls over why directors like Prabhu Deva and Vikram Bhatt continue to make movies
The stupendous box office success of Rowdy Rathore has proved the point that we as an audience deserve the films that we get. And for fans of Rowdy Rathore, there is some excellent news. Director Prabhu Deva is planning a prequel titled Don't Angry Me. But this will happen only after the hit-maker has finished salvaging Shahid Kapoor's current spate of flops with Namak that he is filming now. Akshay Kumar will obviously be the cornerstone of the prequel. It remains to be seen whether Sonakshi Sinha will be the chosen piece of flesh for the prequel or some other heroine will be exploited for Prabhu Deva's lewd camera.
While we are on unfortunate subjects, let's cast our eyes on Deepak Tijori. Yes, we understand your confusion and we'll clear it. He's the flop actor who after being drummed out of the acting business decided to turn director with the execrable sex comedy about male strippers called Oops that had precious little sex and no comedy whatsoever. His last effort behind the camera was 2009's Fox, starring Sunny Deol, that not even a fox saw. Alas, Tijori is back with not one, but two films. Vikram Bhatt will produce the first one and will be a thriller titled Love Games. The second one is an untitled film for an unknown producer with no cast finalised yet. It is important that Tijori is making these films, because we need them to make up the numbers that make India the world's leading producer of films by quantity, quality be damned.
Meanwhile, the show, as always, must go on and despite Shree Ashtavinayak going bankrupt, Bol Bachchan will release on July 6 on schedule. Ajay Devgn said: "The media reports relate to older issues between Shree Ashtavinayak and other parties and will not affect our release date of 6th of July. We are in the midst of promoting the film and have had great feedback on Bol Bachchan's promos."
Co-producer Fox Star Studios say: "We have acquired all rights to the film and are committed to releasing the film on the 6th of July worldwide. We are a reputable organization whose paramount obligations are to our exhibitors and our audiences. Whilst we prepare full throttle for our release on the 6th of July, we already have plans to work with Ajay Devgn and Rohit Shetty on future such collaborations as this experience for us has been wonderful."
If Rohit Shetty and co desecrate the memory of the original Golmaal (not his effluent film of the same name) and Thillu Mullu, there will be blood.