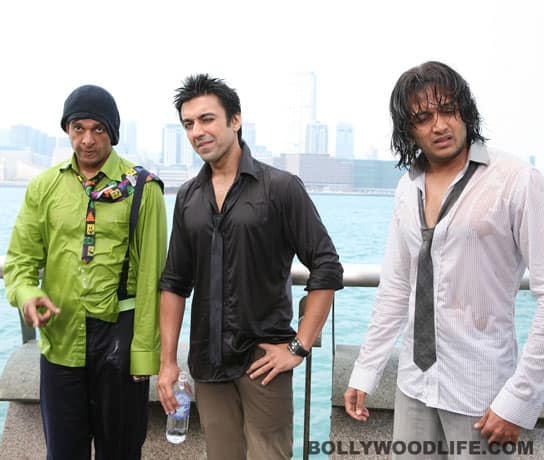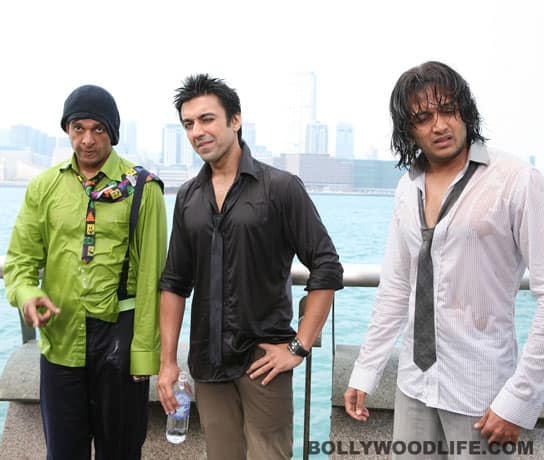 The film revives the hilarious knockabout farces harking back to the glory days of silent cinema
Films like Double Dhamaal are critic proof. No matter what we say, there is always going to be a market, comprising obviously the lowest common denominator, for such loud, crass and senseless comedies. Hence, there is no point in criticising these films. Instead, it would bode us well to appreciate the few crumbs of entertainment that the film bestows us. As they say, when ravishment is inevitable, lie back and enjoy it.
Ravishment is what happens to Ashish Chowdhry. The Chowdhry presence in a Bollywood film is somewhat of a puzzle, since he is usually superfluous to requirements, having no screen presence or charisma to speak of. Acting skills are not referred to in his context, as he appears in no films that require them. Here however, he is necessary, perhaps because the troika of Riteish Deshmukh, Arshad Warsi and Javed Jaffrey didn't agree to the indignities heaped upon his character in the film.
The scriptwriter manufactures a situation where Chowdhry has to be in a female gorilla's costume, only to get swollen lips thanks to a marathon smooch from a (real) male gorilla. The male gorilla is referred to as the "Emraan Hashmi of gorillas" upon which Warsi thanks the heavens that it wasn't the "Shakti Kapoor of gorillas", else much worse might have transpired. The scriptwriter also contrives to have Chowdhry in drag for long stretches of time, and the actor makes for a surprisingly good drag queen.
The other entertaining parts of the film are where Deshmukh variously does Rajesh Khanna, Sanjeev Kumar, Aamir Khan and Jeevan impressions; Warsi does convincing Mehmood, Shatrughan Sinha and Sudhir imitations; and Jaffrey a funny Shahrukh Khan parody. Apart from these, there is the unintentional comedy of Kangna Ranaut's dialogue delivery, especially when she attempts to speak in English. For the prurient ones there is the camera lingering on Mallika Sherawat in a bikini, and also doing a mandatory item number (Sherawat, not the camera).
All this, of course, leads to the inevitable question, what is the plot? The four losers from Dhamaal (Deshmukh, Warsi, Chowdhry and Jaffrey) are back and they go head to head against Sanjay Dutt who was a bent cop in that film and is now some kind of a shady businessman. Dutt uses the four losers as fall guys in a scam that also involves Satish Kaushik with Ranaut and Sherawat fulfilling no discernible function.
The kindest words to say about Double Dhamaal are that it revives the hilarious knockabout farces harking back to the glory days of silent cinema. The film also reaches the giddy heights of the lead characters eating fries dipped in human blood instead of ketchup. But nothing matches this – when, at some point in the film, Warsi in disguise (as a Sikh, if you must know) approaches Dutt for a job, he says: "Sir, I won't blow your job." That says it all, really.
ALSO SEE: