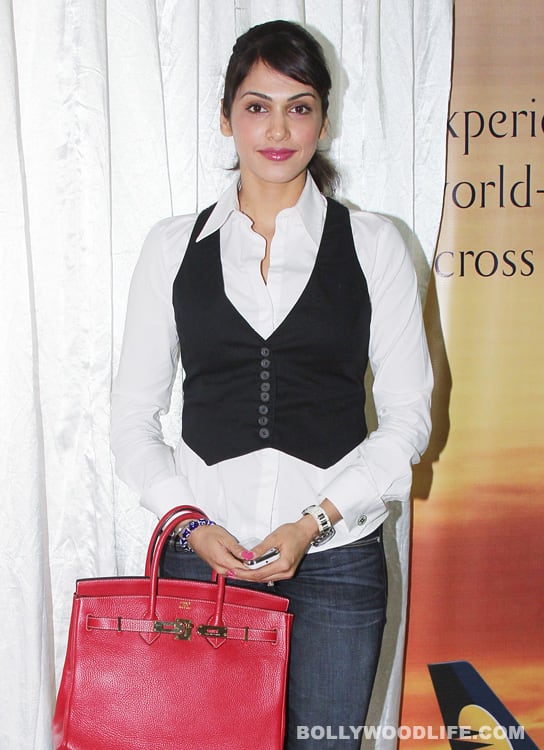 The 'khallaas' girl is usually seen as a glam doll, but with her soon-to-be-released Shabri, she is all set to break the mould and wield the gun, that too in a totally non-glam avatar
She spoke to us about how attached she is to the character she plays in Shabri and Bollywood's need to have more films revolving around women and children.
When you heard the story, were you concerned about the trauma you might face during the shoot, physically and emotionally?
The moment I was narrated the script of Shabri, I knew this was one role that would define my career. Just before I got it, I had prayed for that role of a lifetime that would help me make a mark as a serious actor, in a big way. I consider bagging this role divine intervention. At that point I was mentally prepared to take up any challenge that came my way and Shabri did. Playing a character this real is a dream come true for any actor and I jumped into it without thinking about the physical and emotional repercussions. As I sank into the character, I realised what I had got into, because the role is so demanding and, with a fiercely passionate director like Lalit Marathe at the helm, things were certainly not easy. Shabri has been shot in real locations (slum areas) and it took me almost four hours a day to get in and out of the makeup. The best acknowledgement of my efforts came from the crew, who thought I was some slum-dwelling troublemaker and tried to chase me out of the shoot. That was the best high for me!
Which women-centric films have made an impact on you?
There are few films that have really made an impact on me, like Nargis' Mother India, Nutan's Bandini, Meenakshi Sheshadri's Damini and Kajol's Dushman. It is unfortunate that such films are so few and far between.
Films based on women and children get step-motherly treatment in Bollywood – what do you feel about this?
The problem here is that heroes are not ready to take a backseat. There is a huge void as far as women and children-centric films are concerned, but Bollywood is so obsessed with the superstar hero and his arm-candy heroine format that there is hardly any place for experimental cinema. I think it is high time the heroes stepped back a bit and made way for films about female protagonists. Even female actors should push the envelope when it comes to doing films that are not just about being seen with a superstar and accept it as their claim to fame. Bollywood should start experimenting more with film genres than re-churning the same mundane love stories. Shabri is definitely a step in this direction and it is sad that it took so long to release, but all is well that ends well.
Given that the censor board has become more accepting, do you think a film like Shabri would do better with expletives and bold scenes thrown in?
Shabri is a woman of few words. So the gradual loosening of the censor board would have no impact on the storytelling. It is more an action-oriented film than a dialogue-oriented one. I am not saying that it is your typical Bollywood action film, but you have to see it to believe it.
What do you think about the obscenity and swearwords being freely used in films?
While I personally don't advocate the usage of foul language, at the end of the day, it is the character that is being portrayed. As I am very open to taking up challenges and risks, I would do any role that would excite me as an actor. Spouting swearwords or donning swimwear is fine with me, but only if it adds substance to the film.
Do you think women still have to compromise, even in modern society today?
Not only in India, it's a worldwide phenomenon that women have to put their egos aside to keep their families together. Whatever growth has happened in the world, the status of a woman has always been secondary in the male-dominated world. There are some rare occasions when the latent power of a woman comes out and that becomes their Shabri moment. I think every woman has a Shabri within her; it is only a matter of how far you push them, so they snap out of their usually docile and caring nature.
Would you have done an intense film like Shabri after you got married?
Of course! This is one role that is really close to my heart and my husband is also extremely proud of it. Had the movie not been released, I would have gone ahead and released it on my own. There are a few other films of mine that haven't seen the light of day, but Shabri is one that I will take to my grave – I am that attached to it. The director (Lalit) has already written a sequel to Shabri and I am really excited to take it to the next level.
Those who have seen the film say that yours is an award-winning performance…is it?
In all practicality, who remembers these awards a few years down the line? It is just an exercise to massage egos and feel good about your work, but beyond that it doesn't mean a thing. From what I hear, most awards are rigged and aimed at getting TRPs. As I said earlier, I got the biggest award for this role from the crew of Shabri who couldn't even recognise me on the sets, as I was so much into the character. For all the hard work and passion that was border-line obsession, we really don't need any further validation and we are happiest that the film is finally being released.
Who do you think is the most convincing gangster in Bollywood?
As of now I think Ram Gopal Varma has made the best gangster films in Bollywood, but I think even Mahesh and Mukesh Bhatt are doing a good job of making films in this genre.