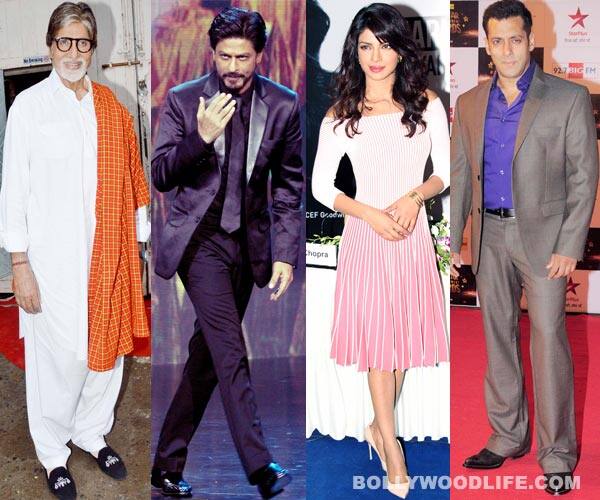 Stars wish their fans on the occasion of Eid ul Fitr on Twitter
On the auspicious occasion of Eid, Bollywood takes to Twitter to convey their wishes. Everyone right from Salman Khan, Shahrukh Khan, Priyanka Chopra, Amitabh Bachchan to Abhishek Bachchan wished everyone on the social networking site.
Here's what they say…
Shahrukh Khan, whose 'Chennai Express' released today on Eid tweeted: "Maine poocha Chand se, falak ho ya zameen…dekha hai kahin…" Chand Mubarak to all. In the throes of trials.. previews…reviews & phews!!"
Amitabh Bachchan: Eid Mubarak to all our followers and readers and all humanity.. May there be friendship, love, happiness and understanding ever.
Salman Khan: Wish u all a v v v happy eid .
Sonam Kapoor: Dekho chaand aaya! Chaand nazar aaya! Eid mubaraq!
Bipasha Basu: Eid mubarak to all!Looking Fwd to some yumminess on set today:)
Neha Dhupia: Chand mubarak doston … Happiness n more happiness to all of u …
Priyanka Chopra: Eid Mubarak to all who celebrate today.. May Allah give us all strength peace and happiness..
Abhishek Bachchan: Eid Mubarak to all of you. Spread the love and increase the peace.
Boman Irani: Eid Mubarak to one and all !!!!!!
Farah Khan: Learn 2 give more credit,more praise,more love n see how good u feel! The more u give,the richer u get!EID MUBARAK!!
Ajay Devgn: Eid mubarak! To all! Happy that I`m starting Prabhu Devas new film on such an auspicous day!
Arjun Rampal: Eid Mubarak may this year be filled with love, peace and joy. Happy feasting.
Varun Dhawan: Eid Mubarak to everyone. I`m going to miss going to Mohammed ali road and eating this year but will dream about it tonight lots of love
Since the entire Bollywood has been sending out Eid greetings to all the fans, then why should we be left behind? BollywoodLife wishes all its fans across the globe Eid mubarak. Have fun eating all the wonderful delicacies and send them to us as well. After all we also deserve to have them. Don't we?