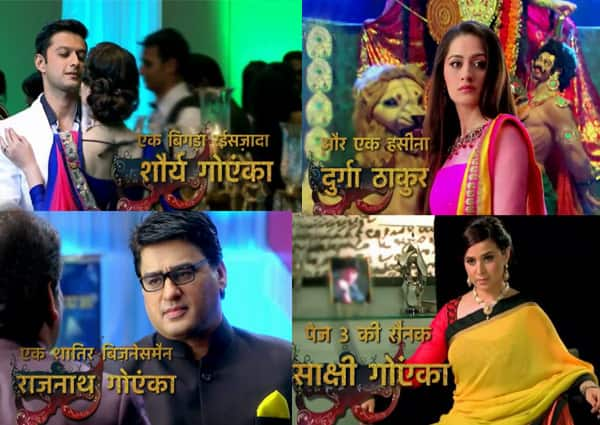 Two things are very popular in Kolkata – Durga puja and the Goenka family
Ek Haseena Thi marks the comeback of Just Mohabbat actor Vatsal Seth after almost 14 years. This drama is set against a Bengali backdrop and mainly revolves around power-play, vengeance, revenge and emotions between the Goenkas and Durga (Sanjeeda Sheikh). The characters of Ek Haseena Thi include some powerful performers – Ayub Khan of Uttaran fame plays Rajnath Goenka, a shrewd businessman, the Heena babe Simone Singh steps in as Sakshi Goenka, an influential socialite and Vatsal sheds his good-boy image to play Shaurya Goenka their spoilt son. Sanjeeda Sheikh portrays Durga Thakur – the femme fatale in this tale.
The promo gives you a jhalak of the affluent life of the Goenkas, their agendas in life and a sneak peek at their characters. It also highlights Durga – the real hero of this thriller-drama – a brave, gal seeking justice and revenge from the wrong doers. Durga's mission is to end the sin and sinner.
The show is high on talent and production value. Simone Singh, who has been away from the small screen since 2005 after her last show Kasshish returns as the stylish, sly and a sharp tongued socialite.  Sanjeeda looks gorgeous as always, but the whole bong touch adds to her beauty. The makers have been lucky to find their perfect Durga. Ayub Khan takes a path less trodden, he is strikingly different in his role as Goenka Sr than the caring father from Uttaran. Lastly, Vatsal, who comes back on television after a self imposed exile didn't seem too promising in this promo, then again he didn't get to showcase much of his talent either.
The introduction promo looks interesting and makes you curious to know the secret. If not the story, viewers can definitely watch the show for some amazing fashion tips. All in all, Ek Haseena Thi seems worth a watch. What do you think BollywoodLifers?