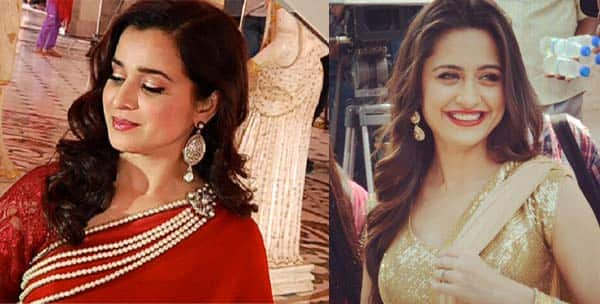 Star Plus' new daily soap may have a common story but the treatment, performances and execution is par excellence
S Hussain Zaidi in his book Mafia Queens of Mumbai mentions how women are so instrumental in making and breaking the lives of dons. And how dangerous it can be when a woman is wronged. While this story has no connection with Zaidi's book, we are compelled to warn you that the femme fatale is not someone you should mess with. Guess the makers of Ek Haseena Thi know this all too well.
Storyline:
Ek Haseena Thi is the story of a girl, Durga Thakur (Sanjeeda Sheikh), who swears to take revenge from the Goenkas – an influential family in Kolkata. Sakshi Goenka (Simone Singh) is the true mastermind behind all her husband's dubious schemes. Rajnath Goenka believes that money can buy you power with which you can own and destroy anybody. He has a sharp mind and his wife-cum-business partner helps him using her calculative brain. Their son Shaurya (Vatsal Seth) is a spoilt brat, who uses women and throws them without a second glance. Kangana Goenka – their daughter is a social butterfly, who doesn't get along with her mother, but is vain all the same.
Durga comes to Kolkata to take revenge from the family for ruining the life of Payal – the daughter of Goenkas' driver. Durga is rich, calculative and does not shy away from using underhand tricks for justice. She runs several NGOs and believes that the Goenkas have lived their carefree life a little too long. She tries to get close to the family and gets introduced to them for the first time on Durga puja. The Goenkas are now trying to start a Cancer hospital with the Thakurs.
Saurya, who is mesmerised by Durga's beauty, challenges his friends to woo her. All his attempts to impress her have failed so far. His usual trick to woo girls with money is definitely not working for him. And his ego is bruised and bleeding.
When Shaurya will realise that he cannot win over Durga, he will finally realise that Durga – if not the use and throw material will make a trophy wife. The Goenkas believe that the Thakurs could be a good match for them and hence will consider Shaurya and Durga's marriage. Wonder how far Durga will go to take revenge.
Performances
Simone Singh as Sakshi Goenka overpowers Ayub Khan who plays Rajnath Goenka. Her presence sends chills down the spine. There's no doubt that Simone looks gorgeous in Ek Haseena Thi, but her style, sarees, jewellery and hairstyle will be emulated all over. After doing positive roles all her life, this new avatar of Simone takes the cake. Sanjeeda Sheikh has delivered powerful performances all her life; as Durga she makes you empathise with her. Like Saurya, we are mesmerised with her beauty too. Vatsal Seth as Shaurya plays the womaniser and brat to the T. The actor has potential and finally a platform that will recognise it, just a tad more effort and we are sure he will achieve it. Ayub Khan is descent but gets overshadowed by Simone. The other characters in the show Amit Behl (Navin Mathur), Bhupindar Singh (Dr Dayal Thakur), Kishwar Merchant are just about average.
The story of the show is unraveling slowly and is beautifully told, but the camerawork seems too repetitive. When Durga enters the Goenka house for a dinner she remembers Payal's humiliation. Well we get the point when they showed it once, what was the idea of repeating the sequence. Of course, it makes you wonder if Durga witnessed all this in person. We like the blend of the past and present in one frame. It had a very Rang De Basanti feel to it, which we liked. We believe the story of rape; we hope the writers make it grueling enough for it to seem believable. The mystery element will definitely keep the audiences at the edge of their seats.
Verdict
All in all, Ek Haseena Thi makes for an interesting watch so far. The protagonist is strong and courageous unlike most daily soaps. The execution, presentations and narration of the story is A-1 and Simone Singh and Sanjeeda Singh make up for the icing and cherry on top of the cake.
Rating:
out of 5
Reviewed by Letty Mariam Abraham
* Poor
** Average
*** Good
**** Very good
***** Excellent