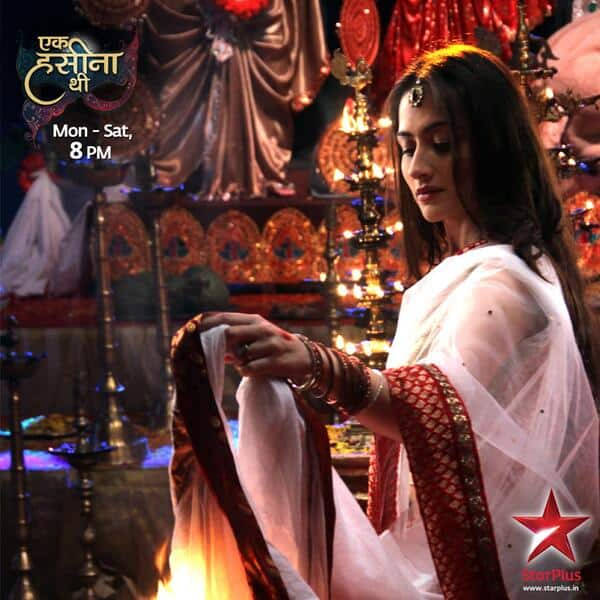 Where last episode of Ek hasina Thi showcased the revelation of Rajnath's affair with Raima, the upcoming one will put the spotlight on Bagchi's blind act and Durga's secret, which is in danger of getting exposed
Shaurya's (Vatsal Seth) father Rajnath Goenka's (Ayub Khan) secret affair with Raima Maheshwari (Kishwer Merchantt), is no longer a secret from Shauraya. In the last episode of Ek Hasina Thi, we saw Shaurya catch Raima red handed in a bed sheet, as she was attempting to escape from the farmhouse. Meanwhile, Sakshi (Simone Singh) suspected Rajnath of something fishy and insisted that there was someone hiding in the room, as she had heard Raima's cell phone go off.
The drama was being rejoiced by Durga (Sanjeeda Sheikh) from a distance, who wanted Shaurya to enter the farmhouse and find Sakshi talking to Rajnath. In the upcoming episode, we will see Shaurya getting nasty with his dad. Twisting Rajnath's hand, he will threaten his father to take his proposal for Durga to Dayal( Bhupinder Singh).
Meanwhile Durga will desperately try to track the exact location of Divya's whereabouts but will be delayed by her informer. Sakshi on the other hand, will be seen grilling Divya in order to process information from her regarding Durga. Her attempts will go in vain as Divya would be seen repeatedly informing her that she doesn't know anything about Durga. Bagchi will be brought to the same location as Sakshi's, on her orders. The big question is, will Bagchi still manage to ace the blind act or will Durga's secret be revealed?
Watch this space for the latest updates!