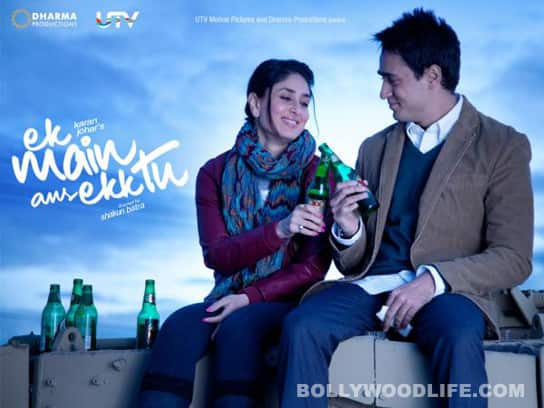 Find all the reviews, news, gossip, pictures, trailers and songs from Ek Main Aur Ekk Tu on this page
STORY
Rahul Kapoor (Imran Khan), 26, is on his way to become a carbon copy of his parents when he suddenly loses his job as an architect in Vegas. Afraid that he has let his parents down, Rahul decides to hide the truth and find another job. When by a twist of fate, he meets Raina Braganza (Kareena Kapoor), a quick-witted hairstylist, who is everything he isn't. A series of events lead them to meet on Christmas Eve over a few drinks… but like always, it's never a 'few'. Following this night of debauchery, they wake up to discover that they've gotten married. Now, Rahul has more than just his job loss to hide from his parents.
Rahul and Raina both decide to get the marriage annulled as soon as possible and get an appointment from the court for 10 days later. So over these 10 days, they have their share of arguments, moments and laughs that result in an unlikely friendship. Will it turn in love? Will her warmth and fearlessness give Rahul the courage to face a long-simmering confrontation with his parents? Will a marriage that started as a drunken mistake help two people find themselves?
REVIEWS
EK MAIN AUR EKK TU Movie Review: A pleasant watch with a 'hatke' end!
EK MAIN AUR EKK TU Quick Movie Review: Kareena is good, Imran is decent
PICTURES
Karan Johar, Kiran Rao, Avantika Malik at the special screening of 'Ek Main Aur Ekk Tu'
Kareena Kapoor in 'Auntyji' avatar
Kareena Kapoor, Imran Khan, Karan Johar launch 'Ek Main Aur Ekk Tu's first look
Kareena Kapoor celebrates birthday on 'Ek Main Aur Ekk Tu' sets
VIDEOS
EK MAIN AUR EKK TU new song: Aahatein
Title song: Imran Khan, Kareena Kapoor get sloshed
Trailer: Imran, Kareena have a jolly good time!
NEWS & GOSSIP
Kareena Kapoor prefers Imran Khan to beau Saif Ali Khan!
Kareena Kapoor is not pregnant!
Is Imran Khan worried about Ranbir Kapoor's success?
Does Imran Khan prefer Kareena Kapoor to Katrina Kaif?
Kareena Kapoor and Saif Ali Khan getting engaged!
Why Kareena Kapoor prefers middle-aged Aamir Khan to younger Imran Khan
Is Kareena Kapoor tired of working with older men?
Shakun Batra says Imran Khan is sharp, observant and will be a great filmmaker
Is Imran Khan's tie a style superstition?
Imran Khan launches video travelogue 'Ek Main Aur Ekk Star'
Why is Kareena Kapoor getting closer to Aamir Khan?
Ek Main Aur Ekk Tu, Agent Vinod, Rowdy Rathore, Tezz or Talaash? Which one are you looking forward to?
India out of Oscar race – again
Imran Khan and Kareena Kapoor together again!
Hrithik Roshan, Imran Khan, Kareena Kapoor go to Peru!
What will Karan Johar gift Katrina Kaif?
Boman Irani wishes to be in 'Munnabhai 3′
What should Aamir, Salman, Ranbir give Imran Khan as a birthday present?
Will Katrina Kaif beat Kareena Kapoor?
Imran Khan makes Kareena Kapoor an older woman!
EK MAIN AUR EKK TU music review: Light and breezy!
EK MAIN AUR EKK TU: Kareena Kapoor gets naughty with Imran Khan!
Malaika Arora Khan, Imran Khan, Priyanka Chopra to add shine to the 'Bigg Boss 5′ finale
Hrithik Roshan, Imran Khan, Kareena Kapoor go to Peru!
What does UTV have in store for 2012?
Imran says NO. Will Ranveer or Shahid get lucky?
Imran Khan: Rishi uncle's songs have spunk
Imran Khan turns director for 'Ek Main Aur Ekk Tu'
Karan Johar's film 'Ek Main Aur Ekk Tu' in trouble
Karan Johar's 'Ek Main Aur Ekk Tu' is directed by Pappu!
Kareena Kapoor: I am scared of bike riding
Imran Khan: 'Ek Main Aur Ekk Tu' not a typical rom-com
Imran-Kareena: Casting coup or disaster?
Imran-Kareena's Valentine's Day gift
Imran Khan: It's all good business!