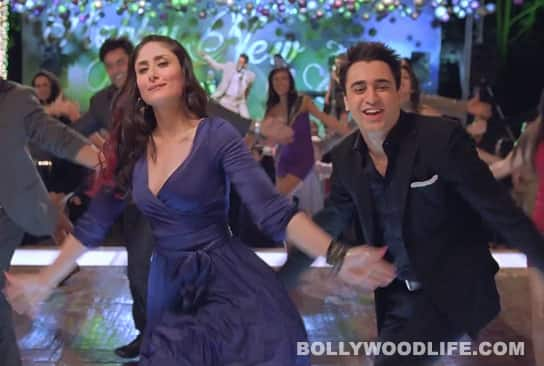 Watch Imran Khan groove with Kareena Kapoor in this unusual dance number from their upcoming film
Meant to be an out-and-out party number, Ek Main Aur Ekk Tu's new song Aunty ji sounds more like a jingle with a peppy tune and quirky lyrics. It has been sung in a thick urban Hinglish accent and has an American flavour (not surprising, as the film is set in Las Vegas).
Imran Khan looks hot in a black suit and spiky hair style and oh my, can he dance! He's finally grown out of his extra left foot. Kareena Kapoor matches Imran step for step and looks gorgeous in her satin Indigo coloured outfit. They share a sparkling chemistry. Sadly, though the song itself doesn't make the cut. It has been composed in the back-to-school style and offers nothing innovative. When you listen to it even for the first time, you get a been-there-heard-that feel. Aunty Ji is not even remotely close to the craziness of Pappu Can't Dance Saala. However, its New Year theme and the timing of its release may work in its favour and give this foot-tapping number a leg up in the charts.
[jwplayer mediaid="66483″]