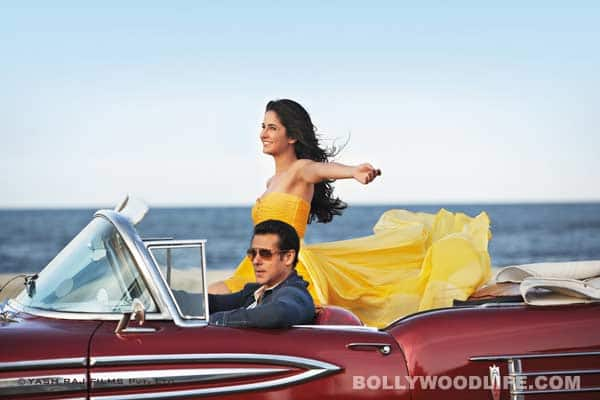 Music: Sohail Sen, Sajid-Wajid
Lyrics: Kausar Munir, Anvita Dutt, Neelesh Misra
Singers: Wajid, Sukhwinder Singh, Shreya Ghosal, Mohit Chauhan, KK, Palak Muchhal, Tarannum Malik
Rating: ***
Everything about Ek Tha Tiger is on a huge scale – produced by Yash Raj Films, starring two of Bollywood's biggest stars, Salman Khan and Katrina Kaif in the lead, and exotic locations, larger than life stunts and visuals that spark lively interest
The music has to be on the same level too and Sohail Sen has been given the responsibility to do just that. He uses a variety of sounds and instruments, aptly so, since the film has been shot in various international locations including Istanbul, Dublin and Havana. Guest composers Sajid-Wajid have been roped in to compose the song Mashallah.
The album kicks off with Julius Packim's Tiger's Theme – a racy, suspense inducing track that's typical of thrillers. Interspersed with East European sounds, it's full of electronic grooves and digital beats. It will surely be an effective background score as action unfolds on screen. Yet, it leaves you with a 'been there heard that' kind of feeling.
Guitars, violins, bongos and drums lead you into Banjaara [WATCH SONG]. The marching effect (due to the foot tapping) invokes great rhythm. But it has a very obvious Dil hara (from Tashan) hangover, especially since both the songs have been sung by Sukhwinder Singh. The orchestration and the chorus add loads of festivity to the number. The lyrics are average. Sohail Sen blends a mainstream Bollywood composition with Irish influences to come up with Banjaara – The High Kings meet Anu Malik kind of track! Looks like this one's for the Dublin portion of the movie.
Lapata uses Latin rhythms and Spanish acoustic guitars for the authentic Cuban touch, since it has been set in Havana. The song was recorded locally in Cuba and the orchestration is of good quality. The chorus does well and newcomer Palak Muchhal matches up to KK's vocals. Still, it comes over as a very average song, thanks to the ordinary core composition.
For Saiyaara, Sen keeps it simple and uses more traditional instruments like santoor and drums, keyboards and guitar. Mohit Chauhan brings loads of passion to the song. Tarannum Malik's voice is refreshing and her low-key notes complement the high-pitched singing by Chauhan. It's a song that you'll start humming without even realising it, whether you like it or not. Lyricist Kausar Munir's writing in this one is poetic. The use of the word Saiyaara – which means 'lonely planet' – has been done beautifully to portray the distance between the two lovers.
Mashallah is a straight lift from an Arabic wedding song. So no points to Sajid-Wajid for creating the best tune on this soundtrack! It's a groovy and hummable number with Arabic lyrics by Kausar Munir. Wajid is decent, but Shreya Ghosal sings beautifully. She uses a husky tone and sounds completely in sync with the middle-eastern melody. Benny Dayal sings the Arabic portions with ease.
The zingy chorus intercepts the music. Use of Middle Eastern instruments like the hand-tapped tambourine, the djembe and the darbuka transports you to Arabic lands. The violin and finger cymbals add a new dimension. Mashallah is a winner!
The remixes of Lapata, Mashallah and Banjaara are nothing special and the song writing could have definitely been better. Don't expect a Dabangg or a Bodyguard; the music of Ek Tha Tiger is meek in comparison. There is no item number and no playing to the gallery. Sen makes a good musical effort to create interesting sounds that set the backdrop for this thriller, and Salman Khan's attitude can and will definitely make it work.