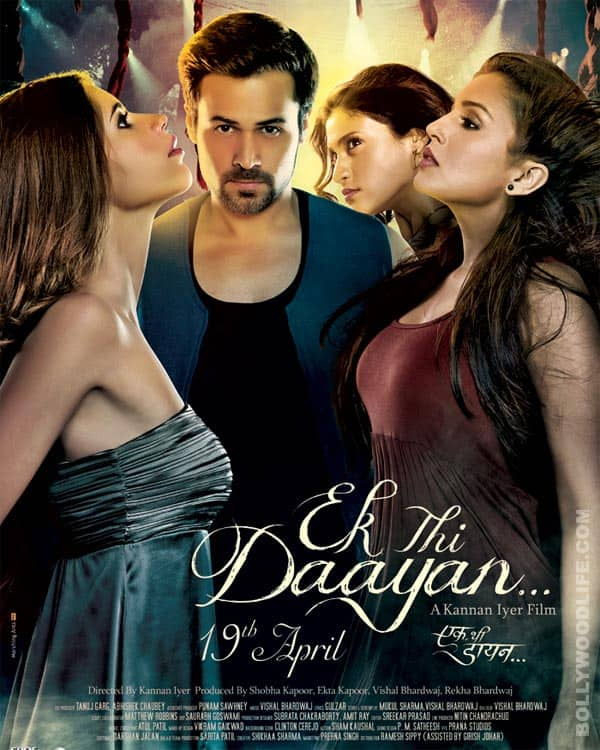 Watch Kannan Iyer's debut directorial venture only for the impressive performances by Konkona Sen Sharma and Emraan Hashmi
Walking into a theatre to watch a film penned by Vishal Bhardwaj and produced by Ekta Kapoor – and going by its certainly impressive promos – one anticipates something more than run of the mill stuff. But so diametrically opposite are the two halves of director Kannan Iyer's debut movie Ek Thi Daayan that you wonder if the horror flick is made by two different filmmakers with contradictory cinematic sensibilities. If the first half of the film – starring Emraan Hashmi, Konkona Sen Sharma, Kalki Koechlin and Huma Qureshi – is impressive, taut and even intriguing, the second half is lengthy, disjointed and highly unconvincing – especially the climax where you have an out-and-out fist fight between the good supernatural and the evil paranormal forces or to be more precise, between the pishach and the daayan. The second half nosedives into occult, voodoo and black magic and simply butchers the interestingly and intelligently weaved first half of reality vs fantasy in one swift stroke.
Bobo (Emraan Hashmi) plays India's top magician, a star. He gets hallucinations about his dead kid sister Misha for which he seeks psychiatric help in the form of a rather odd Dr Palit, who puts him under regression hypnosis to go back to the distant past to get a clue about this mystery. What Bobo sees in the hypnotic state disturbs him. It reveals that when he was 11 and his sister Misha was six, a supernatural power, the supposed daayan, in the form of Diana (played wonderfully by Konkona) enters the scene and destroys his entire family, leaving him orphaned. Worse still, she promises to return and haunt him forever.
Hashmi gets out of this rigorous regression session only to be told by Dr Palit that what he saw during the therapy is a fabrication of his prejudiced mind. The star magician is advised to forget the past and begin life on a fresh note.
And just when Bobo feels that he is back to normalcy with his wife Tamara (Huma) and son Zubin, Lisa Dutt (Kalki) enters the scene to add turbulence to Bobo's life and mind. Though she looks perfectly normal, Bobo's instinct tells him that the daayan is back. Nobody takes his gut feeling seriously.
Now Emraan's character is going through the biggest dilemma of his life. Has the witch returned to fulfill her promise or is his disturbed mind hallucinating, projecting his deep hidden fears and turning the innocuous Lisa into a blood thirsting daayan? Are the battles between the good and the evil only conjured up by the mind that constantly weaves stories based on past experiences or do the evil powers really exist and need to be dealt with in reality? You have to watch the movie to get answers to these.
As for the performances, Konkona Sen Sharma simply steals the show. She portrays the complex and layered character through her expressive eyes with amazing effortlessness. Those subtle, ever-shifting micro-emotions on her face are difficult to read. Emraan Hashmi too has delivered a stellar performance as a haunted terribly by the menacing past magician. Huma Qureshi is less impressive in this one than her first two outings – Gangs Of Wasseypur 2 and Luv Shuv Tey Chicken Khurana. Kalki Koechlin has played her part well and Pawan Malhotra as Hashmi's father is memorable. A special mention here for the curly haired Vishesh Tiwari who nails it as the young Bobo.
All in all, Ek Thi Daayan is spine-chilling in parts, intriguing in the first half majorly because of the sound technical support and fine editing, besides stellar acting by its lead cast. But the lack of coherence in writing, the bizarre climax and its arduous length kill the witchcraft brutally towards the end!
Rating:
out of 5
Reviewed by Prathamesh Jadhav
* Poor
** Average
*** Good
**** Very good
***** Excellent