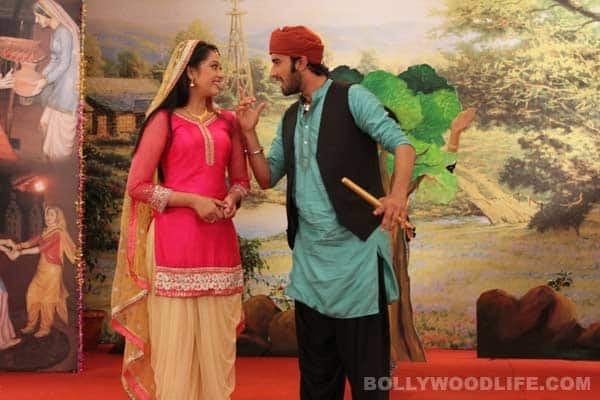 The Sarpanch's son has begun to notice the changes in his demeanour when he is around Veera, but is he ready to accept that it is love?
The makers of Ek Veer Ki Ardaas Veera who have been concentrating on Ranvijay's (Shivin Narang) failed love story with Gunjan (Farnaz Shetty) are now showcasing Baldev's (Vishal Vashishtha) change in attitude towards Veera (Digangana Suryavanshi).
Baldev and Veera have been fighting since childhood. They always loved playing trick and pranks on each other. This tussle between them didn't change even after they grew up.
However, in the past few episodes, we've been noticing that Baldev has been developing a soft corner for Veera. Apparently, this started when Veera announced that she was in love with Karan, her college friend. Failing which, Veera was very upset and didn't show any interest in responding to Baldev's taunts. Baldev obviously began to feel bad for her, but said nothing. Then Veera announced that she was leaving Pritampura and moving to London for further studies. Usually, Baldev would be happy, but this time he began missing their verbal sparring. He even went to the airport to stop her. He kept thinking as to why he suddenly was feeling responsible for Veera, but just couldn't figure it out.
Well in the upcoming episodes, we will see that Baldev will give Veera a ring. Veera will surprise him by accepting it. The Sarpanch's son will consider this as a positive sign, but when Ranvi's sister will try removing the ring, Baldev will get confused and angry at the same time. Without realising why Veera's rejection is affecting him, he will try to force the ring out from her fingers. This will obviously hurt Veera, which will indirectly affect Baldev.
According to our sources, this incident will make Baldev realise that he has fallen for his enemy. He will try to hide it and reprimand himself for having such feelings. But who has ever been able to control the flutter of the heart?
We wonder when Baldev will understand and express his feelings to Veera? Guess we will have to wait and watch to find that out!