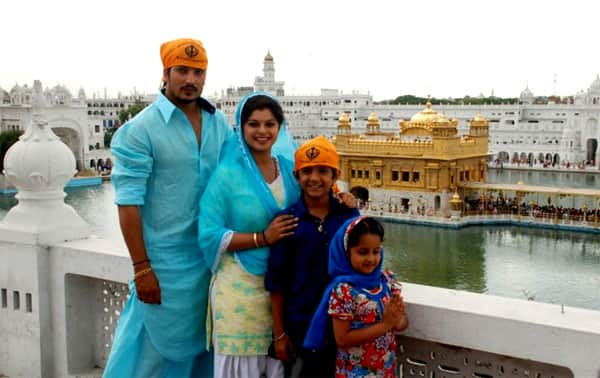 Star Plus' popular show, Veera has completed 200 episodes and Sneha Wagh, who plays a key role in it, is elated and hopes that the show completes 2,000 episodes
Ek Veer Ki Ardaas…Veera, the sweet tale of a brother, Rannvijay (Bhavesh Balchandani) and his sister, Veera (Harshita Ojha), produced by Beyond Dreams Productions, went on air in October last year.
"I hope you (viewers) keep loving us always. We are celebrating the completion of 200 episodes, soon we will celebrate for 2000 episodes," said a hopeful Sneha. "It will be a year shooting for the show. Time has just passed. I think I am blessed," she added.
Talking about her association with the kids in the show, Sneha said, "There are many moments that I will relish forever and will miss them, especially children. They are growing up and when they will grow old, I will miss them a lot," added the actor.
When we contacted Samiksha Bhatnagar aka Gurpreet to congratulate her, she said, "All I want to say is that Veera is a blessed show, and this is the result of entire cast and crew who worked tirelessly with a goal to bring success to the show. The serial is equally famous amongst kids and adults; I want to thank the audience for showering their love on our show. I started with a character of a newly wed and happily married girl, then faced a lot of problems like not being able to experience motherhood, then her husband fall in love with another woman. Gurpreet bravely handles the situations; as an actor I learned and played so many variations in such a short time."
So what's going to happen next in the show? "Gurpreet will finally get justice when her husband will be imprisoned. He is forced to give all his property to me, as per the Panchayat's final verdict. In the upcoming episodes, you will get to see a new image of Gurpreet, I'm eagerly looking forward to it…"
Keep watching Ek Veer Ki Ardaas…Veera to find out what happen next!