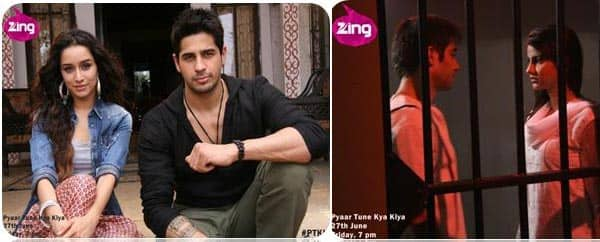 Here's how the much talked about Ek Villain lead pair will be promoting their film
A little birdie tells us that Shraddha Kapoor and Sidharth Malhotra will be appearing as hosts on the TV show Pyaar Tune Kya Kiya. On Friday 27th June, when Ek Villain will hit the theatres, this hot duo will be seen on the small screen on Zing at 7pm on PTKK. Playing celebrity hosts, the two will present a special episode.
On being asked about being a part of a TV show, Sidharth said, "I am extremely thrilled to be a part of Pyaar Tune Kya Kiya. The format of this show is so new and refreshing as we are left to decipher our own endings. This series really amazes me as one would go to any length to save their love much like Ek Villian. This episode is very dear to my heart as I identify with the storyline."
His co-star Shraddha added, "I've had so much fun on the sets of Pyaar Tune Kya Kiya and I would love to come back. After having experienced the show first hand, it excites me all the more and I will try to watch it every week."
Pyaar Tune Kya Kiya tells real life love stories, which began with passion and ended with crime. It's a show that leaves the viewers in a state where they would be sympathising with the one committing the crime rather than feeling agitated towards him or her.