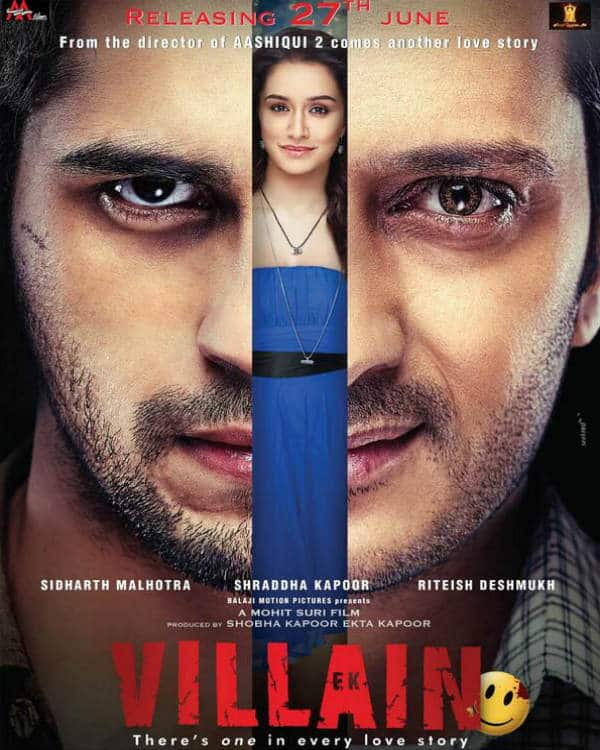 Mohit Suri's next offering post the success of Aashiqui 2 hits the theatres today
What it's about:
Ek Villian is a revenge drama. But not like ones the Hindi audiences have been exposed to. This one is more in the space of Sanjay Gupta's adaptation to Korean film Old boy. This one is a tamer version of another Korean film. Guru (Sidharth Malhotra) is murderer for hire. He meets Aisha (Shraddha Kapoor) and reforms. Aisha is brutally murdered by Rakesh (Riteish Deshmukh) and he has no clue to the identity of the killer. When he finds out he sets to make his life hell. At some point the tables are turned.
What's good:
It begins easy-breezy with the love story but it doesn't skip a beat once Guru begins the hunt for the killer and starts bashing skulls in. Ek Villian is not your typical revenge drama. Mohit Suri's latest offering is not for people with a weak stomach. It is brutal and relentless. Riteish Deshmukh plays one of the toughest parts of his career. He delivers a chilling performance without crutches like a lisp, a limp, physical deformity or trick make-up. His transformation from the coy to the cold-blooded is a applaud worthy. You may have walked in thinking that chocolate-faced Sidharth Malhotra doesn't look the part of a thug or a killer but he disproves that in his very first scene. Mohit manages to bring alive his torment and weariness onscreen. The best thing about this vendetta of violence is that once it gets going, it sweeps you up in it. Shraddha plays her role great, but the film belongs to the boys. It is a film that will leave you shocked, shaken and moved.
What's not:
Shraddha is great in the emotional scenes, but her happy-chirpy character in the beginning of the film is annoying. The in-your-face blatant brand placements in the film are very, very jarring. There are points when it doesn't feel like a Mohit Suri film. He never explains his characters. If Aditya Roy Kapur was an alcoholic in Aashiqui 2, it was not because of any back story or trauma. Why did he feel the need to justify Guru's character? It wasn't needed. The brilliantly conceptualised fight scene when Guru is trying to get to Prahlad (Remo) loses impact when the goons seem to be in a hurry to fall out of his way and throw themselves into glass, rather than being pushed and bashed. And then there are the questions: Why the cat and mouse game between Guru and the cop?
What to do:
If you're looking for an edgy thriller with some romance and great songs, Ek Villian is for you
Rating:
out of 5
Reviewed by Sarita A Tanwar, DNA
* Poor
** Average
*** Good
**** Very good
***** Excellent