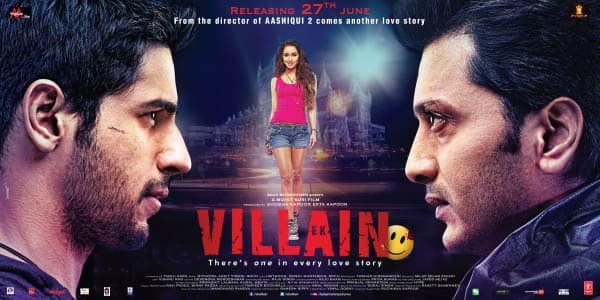 Mohit Suri's much awaited thriller has hit the theatres today, so how does the Ashiqui 2 filmmaker fare? Read Ek Villain review to find out…
Sidharth Malhotra, Shraddha Kapoor and Riteish Deshmukh starrer Ek Villain, a love story with a twist is ready for the audience's verdict. After Aashiqui 2, Mohit Suri returns with a hatke romantic thriller. Since I liked the directors earlier film, my expectations from the director were high and after watching the film I can say that
I was not disappointed!
What's it about:
Guru's (Sidharth Malhotra) parents were brutally killed when he was a child and since then he is seeking revenge. Even though he managed to kill his parents murderers, he hasn't found peace. The finds himself embroiled in the world of criminals and becomes a major part of this circle. Guru then meets Aisha (Shraddha Kapoor), who brings joy in his dour life. Our hero falls in love with Aisha and both start their life afresh. However, tragedy strikes when Guru's lady love is mysteriously killed. Who kills her and why? Will Guru manage to find out the real murderer? For that you have to watch the film!
What's hot:
Ek Villain's music is the major catalyst. Besides that the actors have also done a fabulous job. Sidharth redefines the angry young man, but fails to make a mark in the action sequences. Shraddha's portrayal of Aisha makes you fall in love with her character. Riteish gives a consistent performance throughout, and shines in the film. Prachi Desai's hot item number is an additional treat, while Aamna Sharif (Sulochana) has done complete justice to her role. Also, background score by composer Raju Singh is just apt for every scene.
What's not:
Jokes cracked by Shraddha Kapoor to portray a happy go lucky girl were unnecessary. Some of the dialogues were a little complicated, hence the audience might end up missing the point. How we wish that the makers wouldn't reveal the suspense so early, it would have made the film even more engaging. Kamaal R Khan who play's Riteish's friend in the film is something that the makers of Ek Villain could have easily done without. Lastly, the train sequence where Sidharth admits his love for Shraddha is a passe and overdone.
What to do:
If you enjoy watching romantic films, Ek Villain is definitely your kinda film. Even if you don't, then do watch for the star's performances.
Rating:
out of 5
Reviewed by Avinash Lohana
* Poor
** Average
*** Good
**** Very good
***** Excellent