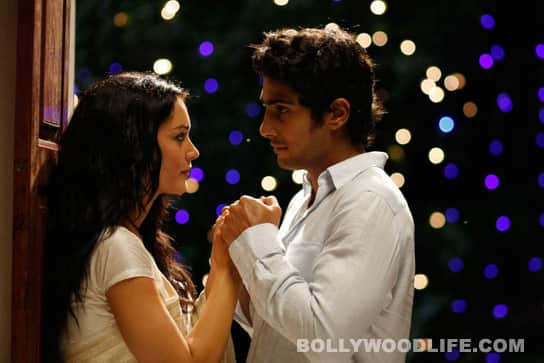 Find all the reviews, news, gossip, pictures, trailers and songs from Ekk Deewana Tha on this page
STORY
Ekk Deewana Tha revolves around Sachin (Prateik), a regular 22-year-old engineering graduate from a middle-class family in Mumbai, who is in love with cinema and wants to carve a niche for himself in filmdom. But it is not easy to fulfill his dream as he struggles to survive on his pocket money. While waiting for his big break, he meets Jessie (Amy Jackson) and instantly falls in love with her. Jessie is a beautiful, elegant and smart girl, but belongs to an orthodox Malayali Christian family, where watching movies, partying or falling in love are taboo. Jessie, from her end, tries to forge a friendship, believing that hiding their feelings under the umbrella of friendship would save them heartache, tears and a full-blown family drama.
REVIEWS
EKK DEEWANA THA Movie Review: An archaic concept laced with boring dialogue
EKK DEEWANA THA Quick Movie Review: Bland and boring
EKK DEEWANA THA music review: Steeped in passion and romance
PICTURES
Prateik, Amy Jackson at the premiere of 'Ekk Deewana Tha'
Prateik and Amy Jackson distribute roses on Valentine's Day
Prateik and Amy Jackson celebrate the success of song 'Hosanna'
VIDEOS
EKK DEEWANA THA trailer: Will Prateik finally deliver a hit?
NEWS, GOSSIP & INTERVIEWS

EKK DEEWANA THA Quick Movie Review: Bland and boring
Prateik: I take time to open up
Prateik plans his Valentine's day with Amy Jackson
EK DEEWANA THA first look: Prateik looks good with Amy Jackson
Prateik is a head-turner with his 'Hosanna' girl Amy Jackson!
AR Rahman: Leon D'Souza's voice has a universal appeal
AR Rahman is concerned about 'Hosanna' controversy
Prateik's 'Hosanna' controversy refuses to die down
Is Prateik-Amy Jackson's chemistry too hot to handle?
Amy Jackson admits to kissing beau Prateik
AR Rahman enthralls with 'Hosanna' at Taj Mahal
AR Rahman to appear in 'Ekk Deewana Tha' promo