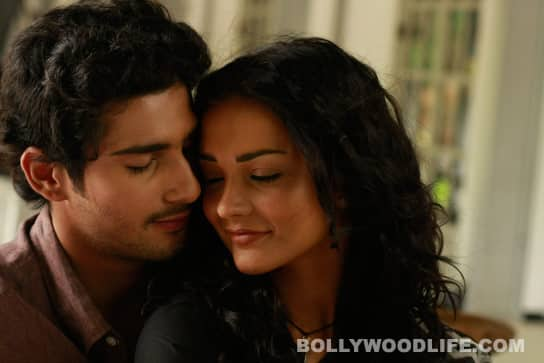 Cineswami analyses the failure of Gautham Menon' Bollywood remake of Vinnaithaandi Varuvaaya
We are, of course, referring to Gautham Menon's much-ballyhooed Ekk Deewana Tha, Vinnaithaandi Varuvaaya and Ye Maya Chesave, the Tamil and Telugu originals respectively, were successful at the box office. The Tamil version in particular was refreshing to watch for the strong lead performances of Simbu (or Young Superstar as he likes to call himself) and Trisha Krishnan. And Ganesh as Simbu's cinematographer friend was an absolute delight, delivering his droll one-liners with a straight face. Alas, as we know now, the Hindi version stinks.  The mood at the film's Mumbai premiere was sombre to say the least. Menon, in an interview to BollywoodLife before the premiere, was defensive at best. The executives from Fox Star Studios India, who bankrolled the film, had nervous smiles on their faces. Prateik looked like he had a headache and in general the buzz was conspicuous by its absence. Matters got worse once the film began. Around 30 minutes into the film, a couple of senior and well-regarded filmmakers who were VIP guests at the premiere were reduced to looking at each other and gesticulating as if to say "Yeh kya ho raha hai bhai?" (What is happening?)
By the interval, there was a stampede of celebrities towards the exit and Menon and cinematographer MS Prabhu looked downcast. If Cineswami had a heart, it would have gone out to them. And our audience seemed to have caught whiff of the negative vibes emanating from the film as well. For such a well-promoted film with chartbusting music from the Chennai Chopin AR Rahman, the opening weekend occupancies were as low as 5–10 percent. And in an age where multi-crore openings are the norm, the all-India opening day collections were just shy of Rs 60 lakh.
The failure of Ekk Deewana Tha can be attributed to a number of reasons. The once bright star of Prateik that shone briefly with Jaane Tu Ya Jaane Na and Dhobi Ghat now appears to be firmly on the wane thanks to a combination of gauche acting in films like My Friend Pinto and Dum Maaro Dum and an unfortunate squeaky voice. And Amy Jackson just doesn't cut it as a Malayali girl by any stretch of the imagination. Perhaps the real culprit here is Menon's lack of comfort level in Bollywood. Rehnaa Hai Terre Dil Mein, the Hindi remake of his excellent Tamil film Minnale, was a dud, as is Ekk Deewana Tha. In sharp contrast if you watch the teaser for Nee Thaane En Ponvasantham, the Tamil version of his upcoming ambitious trilingual, it's brilliant. Just some simple yet evocative dialogue between Jeeva and Samantha, and a few strains of the immortal Ilaiyaraaja song where Menon derived the title from. Clearly Menon is in his element here and very much within his comfort zone. Perhaps he should stay there.
And three cheers to Rajan Khosa who's Gattu has just won a special mention at the Berlin Film Festival.