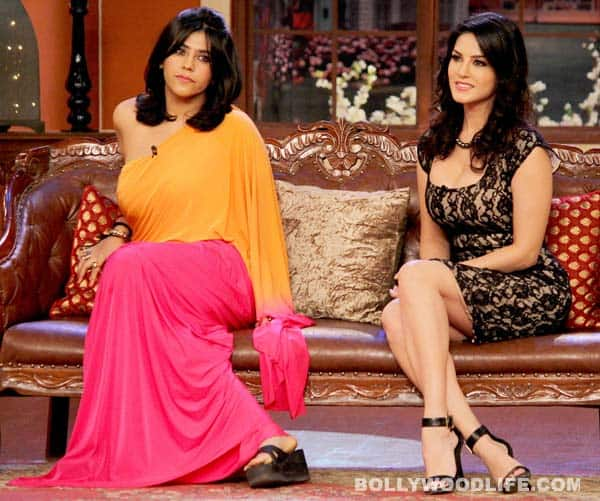 skip advertisement
The adult star has found a fan in TV's czarina
Ekta Kapoor and Sunny Leone made a joint appearance on Kapil Sharma's popular show Comedy Nights with Kapil (CNWK). And Ms Kapoor was her candid self as she confessed lack of 'masti' in her life, competition with Kapil's show and of course the pleasure of working with the hot and talented Sunny Leone.
Ekta Kapoor accompanied her Ragini MMS 2 heroine for the film's promotions on Kapil Sharma's show. Ekta admitted, "It's (CNWK) such a popular show, it is apparently always giving my Jodha Akbar competition. I have come here because I have heard and seen also a bit that a lot of masti happens on the show and masti is missing from my life. I have come to enjoy and have a stress-relieving moment."
Ekta is all praise for Sunny and when told by the media that she has probably presented Sunny in the best manner as compared to her earlier films, Ekta was all smiles.  "I am so glad you said that. But Sunny is a good actor and I am honoured to have worked with such a good actor. As a good producer, I have tried to present my actor in the best possible way and I hope she is happy," Ekta said.
Earlier, there were reports that Kapil Sharma, the host of Comedy Nights with Kapil, was not keen on having Sunny, a porn star, on his family show when she was promoting Jackpot. However, that seems to be a thing of the past now. So, be ready for a raunchy fun episode of Comedy Nights with Kapil with Sunny Leone!