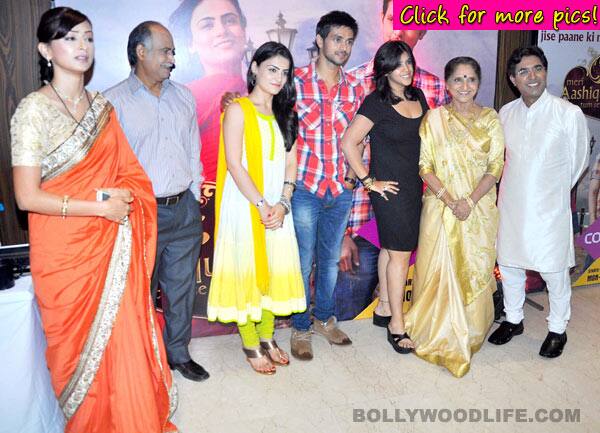 skip advertisement
Colors together with Ekta Kapoor's Balaji Telefilms, has come up with a brand new show Meri Aashiqui Tumse Hi which is set to hit the floors on June 24. So what does the lead pair have to say about their romance? Read on to know more…
Ekta Kapoor's latest show Meri Aashiqui Tumse Hi will showcase Shakti Arora (playing Ranveer) and Radhika Madan (playing Ishaani) in a lead pair.
Ranveer will play the role of a man who belongs to a humble background and is hopelessly in love with Ishaani. Due to certain circumstances, he will constantly fail to express his feelings to her, but will maintain his friendship with her nonetheless. Radhika on the other hand, will play the role of a simple girl, who views Ranveer as her companion, friend and confides in him, unaware about his love for her.
Speaking about his character, Shakti Arora said," For Ranveer, his life revolves around Ishaani. He has been in love with her for as long as he can remember, but he is also conscious of the fact that his feelings will never be reciprocated. I hope audiences do enjoy my portrayal of a silent lover whose single aim in life is to ensure that Ishaani is happy."
Radhika Madan while speaking about her role in the show said, "Ishaani is the perfect Indian girl who believes in love and all the good things in life and I am working really hard to get into the mould of her character."
When asked Ekta Kapoor about how Meri Aashiqui Tumse Hi will be different from the rest of the love stories on television today she said "I never claimed it is a story different from the rest. Yes, it is a love story like many others, but there is always something, a certain zing, a certain element which makes every love story different in its own way. For example, take the movie Ram-Leela. Again it was a love story, but it clicked with the people as it was presented in a different way."
The show will also see the likes of Sarita Joshi (playing Ishaani's grandmother) and Gauri Pradhan-Tejwani who is making a comeback to television after a long gap of five years. Prithvi Sankala will be seen playing Ishaani's father and Shahab Khan as Ranveer's father.