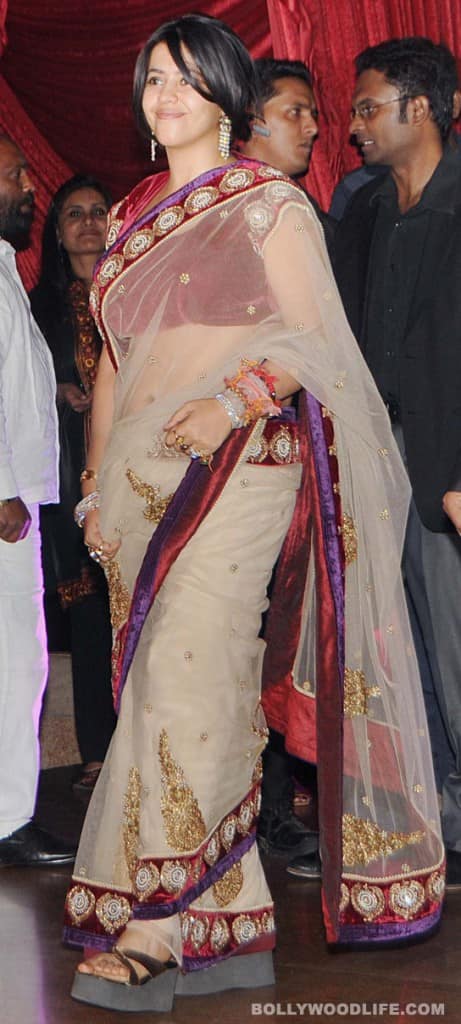 The Czarina of Indian television may have decided to change her fashion statement, but someone should remind her that style goes all the way down to her feet!
A few weeks ago we heard from our buddy the birdie that Ekta Kapoor, the lady with the power to change television viewing habits, was going to opt for a different style. No, not the way she goes about her work, but the way she presented herself, especially in her clothes and accessories. We cheered when we heard that story, but had doubts about it for a while, because all we saw the lady in was those voluminous caftan things in various shades of ombre, usually black with a startlingly contrasting orange or pink or a mix of different hues. All this, with a generous amount of cleavage on display.
Now we see that Ekta's fashion statement has changed a little, judging by her appearances at the Zee Cine Awards 2012 in Macau and then at the Riteish Deshmukh-Genelia D'Souza wedding reception. For the first, she wore a gorgeous bordered ghagra with a lacy long blouse showing off intriguing amounts of skin, while for the second she was, unusually, in a heavily embellished sari, looking like the queen of all she surveyed. We liked, we admired, we approved….and then we saw the footwear and we almost cried. We are just saving enough sanity to tell Ms Kapoor that she needs to change her shoe-stylist. Those black strapped, high platform clodhoppers are so not IT, Ekta! Get yourself some pretty sandals, dainty slippers, anything but those clunky slip-ons that do nothing for your pedicured toes and even less for your fashion quotient. If you have a podiatric problem, there are people who make special shoes for iffy feet – we could suggest a few names….