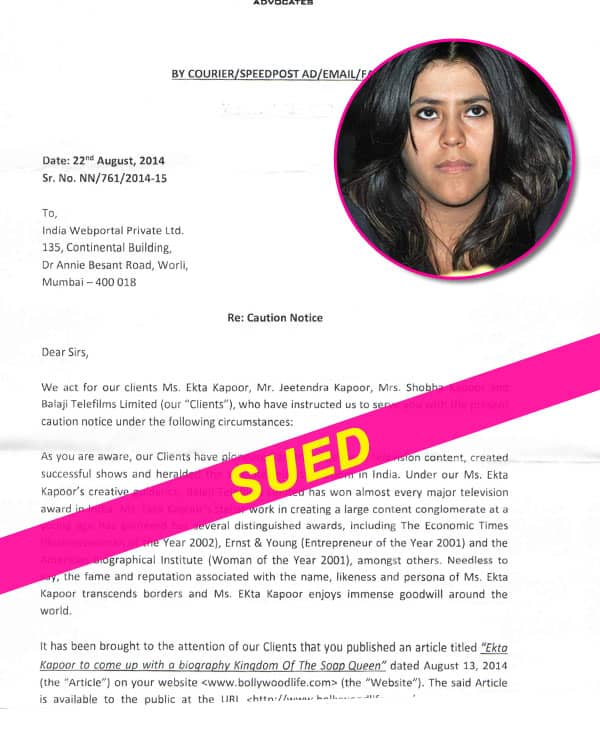 Read to know what upset the Czarina of Television that she had to take legal action against us
We were going about doing what we love best (giving you guys the biggest scoops and news breaks) when we got an email alert from none other than Ekta Kapoor. Well, not from her personal account, but her lawyers who sent us a letter with a subject: 'Caution Notice'. For all of us whose understanding of legal terms comes from watching episodes of Ally McBeal or Boston Legal, this shook the ground beneath our feet!
On further scrolling through the legal notice we were informed that a certain article on our website talked about Ekta wanting to write a book about her life and since she's so busy she's asked someone else to do it for her! Ekta's legal document instructed us to do the following within 24 hours (it's Ekta, so we can't expect anything less dramatic than a deadline!)
– Desist from publishing any article that creates an unauthorised association of our clients with a third party
– Rectify the article and issue a public clarification/apology
– Provide our clients name of the source who gave you that article
– Furnish us with proof that you have compiled to the above mentioned
We don't know where to start, but Ekta if you are reading this, then these are four points you could ask your legal team to look into:
– How about doing some groundwork before sending us a legal notice? The alleged article we uploaded was sourced from another publication who put it up way before us
– Forget telling you the source, if we did have access to the person who was writing your biography we would have put out a bigger and juicier item than a mere news report
– If there's anyone who deserves an apology then it's us! For getting a notice for something we didn't do (we plead not guilty your honour!)
So, here's what we ask anyone who plans to send us notices in the future to do, start by doing a Google search, do some research, and just cause we are the BIGGEST digital name in Bollywood and entertainment doesn't mean we will get cowed down by your bullying! Peace!