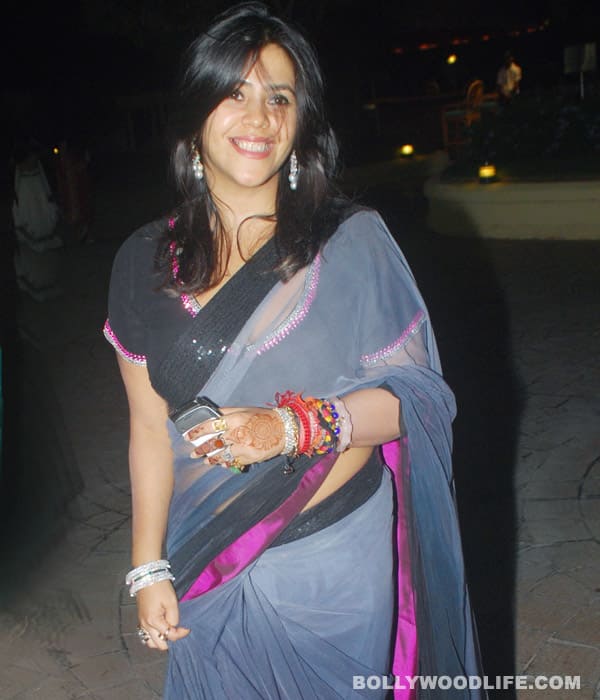 The filmmaker's official birthdate is today, but she prefers a different date
Ekta Kapoor claims she is going to have a quiet sit down dinner today (June 7). Unbelievable, isn't it? The TV queen is known for her raucous parties where guests down vodka shots like water, boogie the whole night away and finally leave the next morning on a high. This year, you would have expected the party to be raunchier, since she has a lot to celebrate with The Dirty Picture being a huge success. What happened? Why this change of plan?
Don't worry, Ekta hasn't changed a bit. The official reason is that all her B-town friends are away today, attending the IIFA Awards in Singapore. She will be all alone here, so who will she party with? That's why Ekta decided to wait to celebrate on June 9. That it's a Saturday, is a double blessing. Her guests will be in a party mood. Do you believe that?
But hang on; the real reason is totally different. A li'l birdie tells us that Ekta believes 9 is her lucky number. She is hoping that by celebrating her birthday on June 9, the next year will bring in more luck. Does that also mean no one should wish her today? Oh, but Karan Johar has wished her already! And so have we! Too much confusion. It'll be easier if Ekta realises that if there's one thing you can't change in life, it's your birthdate. If she really thinks that spending money on June 9 instead of June 7 will increase her success in the coming year, well, we can only say she'll be better off using that money for a vacation instead. It will at least clear her head of these silly notions.
ALSO READ: Has Ekta Kapoor found her sole-mate at last?