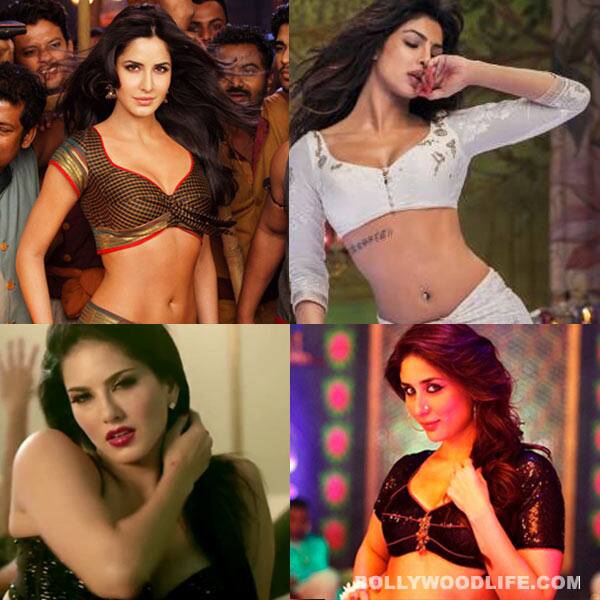 It's celebration time for Narendra Modi and his party, courtesy, the Election results 2014
Narendra Modi and his party are clear winners this elections. The orange flag will be flying high in numerous constituencies by tonight. While the party members and other supporters will be celebrating, a lot of B-townies are divided over BJP's victory. While some are happy, quite a few of them aren't that happy for NaMo and his party. Anyways, we were wondering if the whole of B-town was to rejoice Modi's victory, how would they do it in Bollywood style. Imagine if they were to celebrate it with cheerleaders and dance numbers. Sounds fun, no?
Well, we would love to see B-town divas like Priyanka Chopra, Katrina Kaif and Kareena Kapoor dancing to their item numbers. If Priyanka were to shake a leg, we would love to see the dusky siren in her sensuous avatar from Ram-Leela grooving to Ram chahe Leela. Didn't she looks absolutely sexy in the lungi-lehenga? If PC's close friend Deepika Padukone was to shake a leg at a celebration, there are many songs that we would love to see her recreating her magic in. To begin with, remember DP in the song Mit jaye gum from Dum Maaro Dum? The leggy lass sure knows her moves right, doesn't she?
Anyways moving on to the next diva, which dance would you like to see Deepika's ex-flame Ranbir Kapoor's current girl Katrina Kaif to dance to? Be it Sheila ki jawaani or Chikni Chameli, Kat could have any man eating outta her hand with her dance moves, no? Katrina could be a great hit if she were to be cheerleading at NaMo's victory party. But on second thoughts, considering that she is a firangi babe, wethinks Congress would rather prefer her at their party (which won't be happening this year). Wink, wink!
As much as we wanted to resist, sexy Sunny Leone is irresistible. These days no party is a party without Leone's Baby Doll song, right? How we would love to see Sunny Leone shaking a leg to her Baby Doll number at Narendra Modi's party. We would have added that we'd like to see her dancing to Chaar botal vodka, but if Modi's party was to be hosted in Gujarat, a song like that would sound to dry, no?
Last but not the least important, Kareena Kapoor Khan performing to an item number would be quite a visual delight. Be it Halkat jawani or Fevicol se, Bebo would make us say 'It's Rockin.' But we just hope that Kareena doesn't fall ill out of the blues to avoid a party only to attend another. Wink, wink! Also, considering she barely has any films in her kitty, it wouldn't be difficult for Kareena to accommodate time for one dance at a party, hai na?
Anyways, we are done building castles in the air. Coz we're sure Narendra Modi will be one busy man from now on, with no time to party. After all, he has to live up to the expectations of so many who have trusted and voted him.