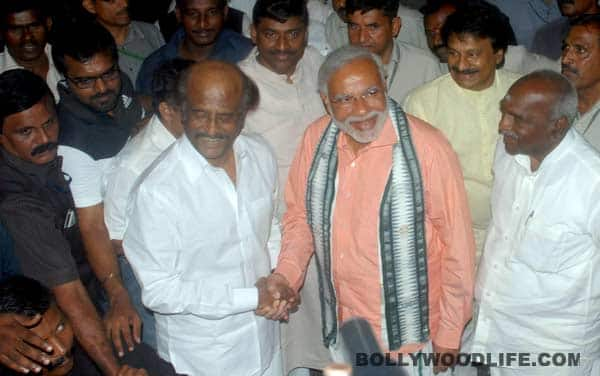 Most of the nation is celebrating NaMo's victory. And guess who is the latest to join the celebration
A little blue birdie tells us that Rajinikanth took to Twitter to congratulate Narendra Modi and his party's orange flag waving triumphantly all over the nation. Rajini tweeted, "Hearty Congratulations dear @narendramodi Ji on your historic win. Best wishes." Well, it's indeed a historical win, isn't it? During election campaigning, Narendra Modi had met Rajinikanth while the former was visiting Chennai. Though the Thalaiva had come out in the open and said that there was nothing political about their meeting, looks like he did rub off his magical charm of being extremely successful onto NaMo. Don't you agree?
BJP has emerged triumphant in so many constituencies that the results are really surprising, in a pleasant way. Looks like Modi's efforts are paying off, and how! We at BollywoodLife too would like to congratulate Narendra Modi on his victory at Lok Sabha Elections 2014!