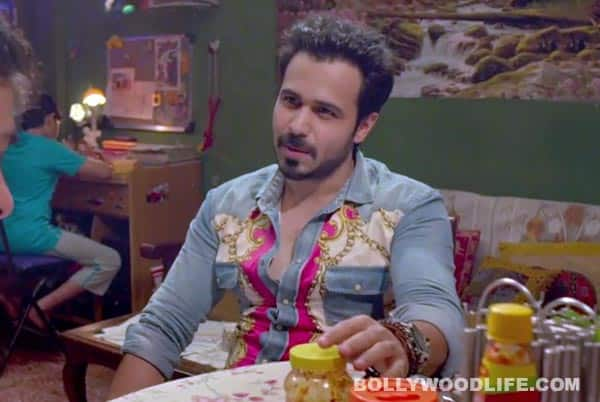 Awaiting a big release, Raja Natwarlal, Emraan Hashmi, seems to be in a pretty jovial mood when we caught up with him at the Disney UTV Office. The actor in a small tete-a-tete opens up about his last film's failure, his future projects and about his equation with Alia Bhatt and Mahesh Bhatt. Excerpts…
Raja Natwarlal was told to be a conman film, but watching the trailer it seems that there is less of conman-ship and more of a revenge drama in the film. How do the two combine and form the story line?
Conning people is Raja's profession. He does that to earn his daily bread and butter so that he can get his ladylove, Humaima Malik's character, out of the messy world of bar dancing. In all this process he somehow manages to piss off some big personality, who in turn harms him. Now conning is the only thing that Raja knows. So he uses that to take his revenge against the villain. That's how the two aspects come together. The fight between the two is like David vs Goliath and therefore, he needs someone who can teach him the tricks of the trade better. That's where Paresh Rawal's character comes into the picture.
You are known to not give a long gap between releases. However, your last film Ghanchakkar, released in June 2013 and you are coming up with Raja Natwarlal now. Why such a big gap?
This film took a long time to make. I had a release last year Ungli with Karan Johar and Kangana Ranaut. But it got shifted and we were unable to find a suitable release date for that film. All of these together culminated to the fact that I had a lot of gap between two releases of mine. Also getting the star cast together, making the shooting locations available and all such factors took almost a year for this film to make it to the big screen.
Talking about Ungli, when can we finally see the film?
Ungli will release on November 21 this year. Hum audience ko ungli nahi kar rahe is baar and it is final that the movie will see the light of the day in November. (We are not screwing with the audience)
Paresh Rawal, who is an integral part of the film, must have had his date issues considering he is an MP?
Not really. He had to take sometime off for his election campaign and that was it. We understood that fact and we shifted accordingly. But apart from that working with him was fantastic. Our relationship in the film is like that of Kung fu Panda. My character is very impulsive, jumps up on his feet at every given instant, doesn't think before he talks and all such gawky things. Paresh's character is completely different, just like Zen master. He is disciplined and that is what has made him a great con artist. It is the chemistry between the two of us that has worked out very well and it is he who teaches me the big con.
Talking about Ghanchakkar, it didn't create that much of an impact. How do you get affected when your films don't work?
It is very essential to detach yourself and not let the failure affect you. Ghanchakkar was a film that we all believed in. It was something different but I guess when you are making something different you should be ready to accept a different box office fate. Failures don't affect me as films come and go and what matters is to take a stride and learn from films that don't work. Definitely it got me upset as I expected it to do a lot more in numbers but it didn't. I had to accept the fate and move on.
…and is it the same when you get a big blockbuster hit? Do you just move on?
Yeah. I do. I feel that if I let that thing hit me, I might not be able to deliver properly. I feel that if I don't let go then I might not have the hunger to work in the next film. I have always noticed that whenever I am down after a couple of flops that's when I tend to do my best and come up with my best performance. I guess that greed to do well is very important for an actor.
Post The Dirty Picture you have always picked up projects that are way different and not like your past films. Is that a conscious decision?
To be honest, every film has its own uniqueness. Raja Natwarlal is more commercial and can't be compared to a Ghanchakkar or a Shanghai. The Dirty Picture also in a way was semi-commercial.
As is always the case, Emraan Hashmi films have great music. Raja Natwarlal too has. Which is your favourite track from the film?
Tere hoke rahengey is something that I love to listen to.
Alia Bhatt, your cousin, has been termed as the next Emraan Hashmi. How do you feel about that?
(Laughs) It's unfortunate. I guess the kind of work that she is doing is phenomenal and the press should find some other name for her and let the serial kisser tag be.
Do you want that tag all for yourself?
It is one tag that has just stuck and it doesn't go off. It's just got stuck to my name.
You made onscreen kissing in Bollywood a light, regular feature. Do you think you changed the way people think about the term 'romance' in Bollywood?
Yeah I have. I have changed the way romance is depicted onscreen. However, some people also think that I have corrupted the way people think about romance. So everyone has their own view points, but yeah I feel I have brought about a change.
Sometime back there were reports about you having a fall out with Mahesh Bhatt, because of Raja Natwarlal promotions and Mr X shooting dates clashing. Was that all a publicity stunt?
Actually it wasn't publicity. Mahesh Bhatt was actually pissed at me for taking out some days from Mr X shooting and giving it to Raja Natwarlal. So instead of calling me up and being mad at me, he just tweeted. That's what he loves doing. He tweets more than he talks on the phone. So even I thought that I will revert back with a tweet. And then it just kept on getting bigger and bigger. But he is family and all got sorted out after a few days and now everything is back to normal.
What other future projects do you have?
Am working on Mr X right now. Karan Johar's Ungli will release for sure in November. Then I have my Hollywood project Tigers which premiers next week at an international film festival. We are still looking for an Indian release date for the film. Lets hope that happens soon.