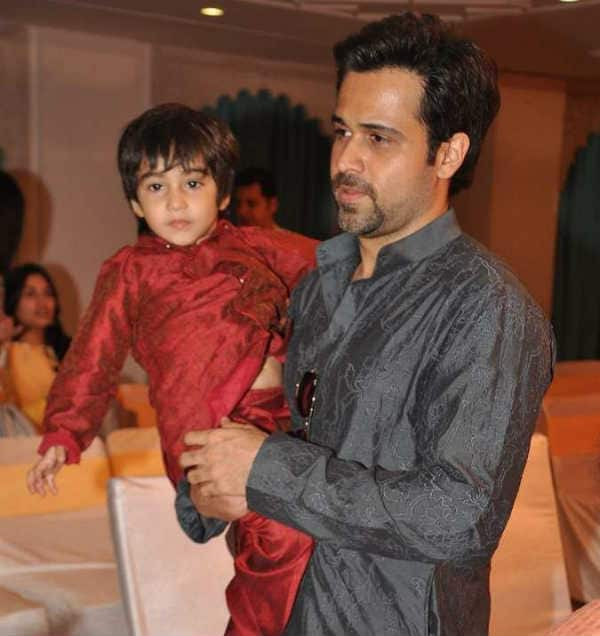 The Ghanchakkar actor is going through tough times on the personal front
Emraan Hashmi's 4-year-old son is detected with a tumour in his kidney, this news did not just sadden the actor, his family, friends, fraternity and fans but one and all. Confirming this news, Emraan's filmmaker uncle talked to a newspaper and said that his hero nephew is shattered. Mahesh Bhatt in an interview said, "I got a call from Emraan at about 12.30 on Monday. He was speaking some garbled words and it was a call that kind of shattered me as he was inconsolable. He was calling from Hinduja Hospital where his four-year-old son Ayan had been diagnosed with a tumour in his kidney that was found malignant. The doctor had suggested immediate surgical intervention after which the road map for the future would be decided and that would probably mean chemotherapy. I went across to his house to meet him. I saw a frail and broken down Emraan with his wife, but his son was so full of life, hardly close to looking ailing from the dreaded cancer." Bhatt also added that the otherwise cool actor was going through a rough patch, he said "I took Emraan aside and told him that I felt this will pass and we will be able to tide over it, and he looked at me with hope and suspicion.
Emraan is said to have discussed the details of his only son's clinical condition with his uncle, Bhatt said, "It is amazing that Emraan, who broke down yesterday, has transformed into a gladiator who would take all the challenges in his stride. I will make sure as a parent that I will create a firewall around him and protect him. He will do all his professional jobs with the same professional commitment without anything or anybody being affected with minor readjustments."
Ayan is being treated at the Hinduja Hospital in Mumbai for a kind of kidney cancer which usually affects children, according to health.com.  Health.india.com in an interview with Dr Arbinder Singal, pediatric urologist practicing in Navi Mumbai discussed about this cancer. According to Singal, "The boy is suffering from a malignant cancer of the kidney called Wilm's tumour. This usually affects children of his age".
Wilm's tumour is usually characterised by abdominal pain and swelling, blood in the urine and fever. The cancer may be part of a genetic syndrome but we are not very sure in this case.  The cancer has been classified as 'stage 1′ which means that the prognosis or chance of recovery is very good. Dr Singal is very positive about Emraan Hashmi's son's case and said,"Stage 1 Wilm's tumour has a 95% remission rate. It has great prognosis. The boy may just require about 18 weeks of chemotherapy, once-weekly".
We at BollywoodLife wish Ayan a speedy recovery and hope that Emraan Hashmi and his family will emerge stronger after this situation in their life.