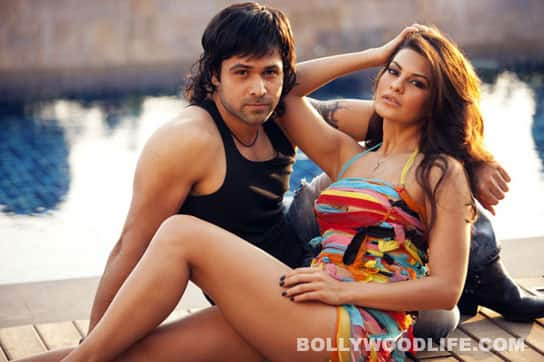 He has been stuck with the tag of 'serial kisser', but Emraan Hashmi doesn't mind that one bit. And one thing's for sure, he has slowly and steadily become a brand in himself— his songs and movies are promoted as 'Emraan Hashmi songs and films', and he has his own respectably large fan audience. He talks to us about being an understated actor despite successful films and the overt sensuality in his upcoming film, Murder 2
Murder 2 has some overtly sensual scenes between Jacqueline Fernandes and you, and it's been promoted as the steamiest film in town…
We've shot a lot of portions in Goa and we do have a lot of intimate portions. Murder was in the area of sensuality and lust, but Murder 2 gets darker. It's more in the edgy thriller space. All the presumptions about this film will be put to rest once people see it. It's the first out-and-out commercial Hindi film to deal with the subject of serial killers.
You have entered the six-pack band with this film…
I am not in any six-pack band. I'm not obsessed with working out. I did it only for the role. If someone asks me to put on a few pounds for the role, I'll do it. Of course, it'll be all the more difficult to shed it!
Do you feel that you are one of the most underrated actors in the industry?
I don't know…who is rating me here? If it's the industry, I would say that I have never looked towards the industry as someone who should rate me. My true yardstick is my audience, and the success of a film. I think I like to be an outsider in the industry. I don't attend parties and film functions. A senior actor whom I haven't worked with wouldn't know me and talk about me. I just keep doing the kind of cinema I like to do. And so the industry people haven't been able to slot me. So I think I have got my due from the audience. I don't really think about how the industry perceives me.
You are nominated at most awards ceremonies, but you never attend the events or even acknowledge them. Why so?
I get my awards and accolades from my audience. I don't really need these yearly awards. I don't really believe in awards. I don't approve of many of the nominations. I don't agree to several categorizations like three for actors, three for music and so on. There are many such things about the whole awards culture that I just don't believe in. The industry can go and clap their hands to it but, no, I am really not interested.
You tried your hand at a comedy with Dil Toh Bachha Hai Ji, which didn't quite work. Would you still try to experiment with genres, or stick to what works best for you?
I want to attempt anything that's out of the ordinary. I always want to do anything that the industry feels is risky or off the beaten track, or subjects that the industry feels wouldn't work.
You have said that you identify with the character you play in Dil Toh Baccha Hai Ji. Is it the Casanova thing?
No. I felt I am very much like that character in the sense that I tend to advise my friends on how they should treat the woman in their life, and how they should handle certain problems in a relationship. But when I have some personal problems, I don't understand how to rectify them. Then I have to go to someone else for relationship advice.