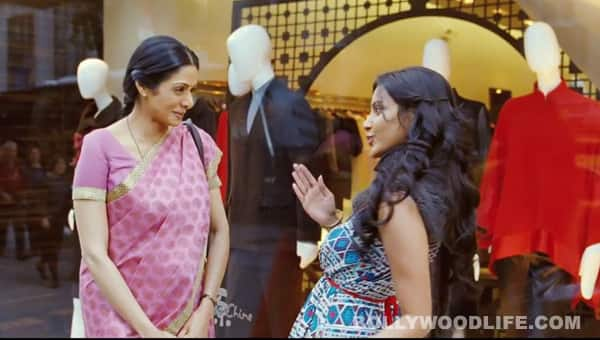 Music: Amit Trivedi
Lyrics: Swanand Kirkire
Singers: Shilpa Rao, Amit Trivedi, Swanand Kirkire, Clinton Cerejo
Rating: ***
Amit Trivedi set his own standards really high with his very first soundtrack: Aamir. And now listeners and critics expect him to come up with experimental and unconventional music all the time. As you start listening to English Vinglish, you know you are only going to get some feel-good music this time around.
Starring Sridevi in the lead, Gauri Shinde's English Vinglish is set in New York. And therefore the music has a western and digital vibe to it, and is totally in sync with the subject of the film.
The title song English Vinglish has two versions – one sung by Shilpa Rao and the other by Amit Trivedi. Both sound refreshing, as Shilpa and Amit have equally soothing voices, suitable for a lighthearted composition of this kind. Swanand Kirkire intelligently blends words like coffee-vofee, train-vain, learning-verning, sheekho-veekho, happy-vappy, busy-visy and more through the track. The rhyming gives the song a special character. The use of hand drums in the second part of the song is just the perfect finishing touch.
Dhuk dhuk sounds like an old Bengali folk song. The use of flute, xylophone, hand drums and Amit Trivedi's vocals add thehraav (serenity or a sort of permanence) to the song. The lyrics Piya bin man lagena, kaise jaoon paraye des sound soothing, reminding you of your long lost hometown.
And even as you get into a melancholic mood thinking of your roots, you are suddenly transported to New York with Manhattan. A complete contrast to Dhuk dhuk, Manhattan is a funky and groovy song. The rap portions are really catchy, with lyrics including all the big brands – Gucci, Versace, Dior, etc. Again, the lyrics are amazingly in sync with the composition and the digital treatment.
Gustakh dil is a mellow number and the tune feels monotonous. The lyrics (like Hasne ki dhun me rota hai kyun and Suljhe dhaagon me uljha hai kyun) are simple, yet convey perfectly the dilemma going on in one's mind.
Amidst all the cool and funky tracks is a Marathi song sung by Swanand, Navrai majhi. Despite the Marathi lyrics, the music arrangement is very contemporary and doesn't have the use of folk instruments, making it a very interesting composition. And then there are some Hindi portions too. In the first stanza the Marathi lyrics are sung in an American accent, adding a new twist to the song. Decent number, but may not sustain your interest for too long.
The music is situational and an integral part of the movie. English Vinglish is sweet-sheet, cool-shool and fun-vun! Give it a listen!