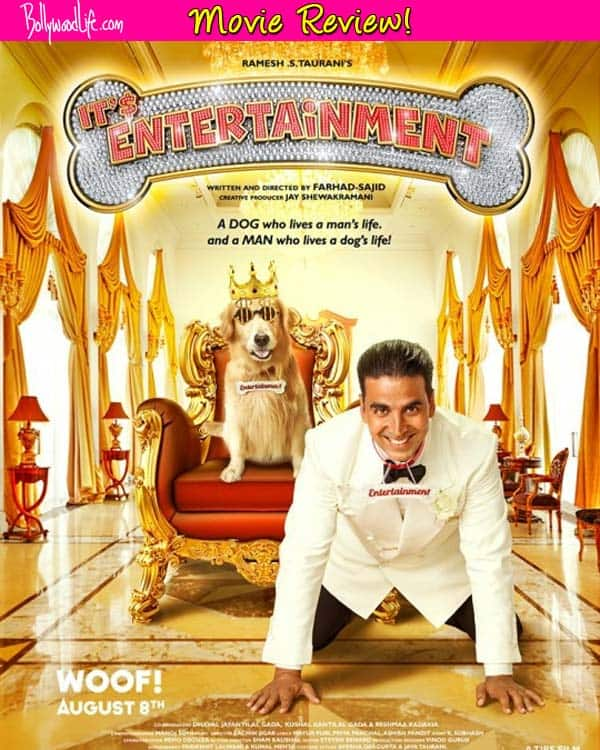 The pun intended humour and impeccable execution make Entertainment a truly fitting name for the movie
Akshay Kumar's much-awaited film Entertainment opposite Tamannaah Bhatia has hit the theatres today. And here's what we have to say about this slapstick comedy…
What's it about: Akshay Kumar and Krishna Abhishek are two friends who curse their fate for not being on their side. Tamannaah plays a stereotypical TV serial actress who needs to convince her father that marrying Akshay will keep her happy. But Mithun her dad puts down a condition that she can only marry him if he manages to make loads of money. There lies the twist in the plot that leads the actors going to Bangkok where a dog decides their future and also plays a very important role in giving the film it's colorful and over dramatic climax.
What's hot: Entertainment has only one motive to stay true to it's name. Right from the first scene Farhad and Sajid the directors have introduced humor through the dialogues setting the tone for the film. Mind you this isn't dry humor but one that relies heavily on sarcasm, intended puns and farce. So if you are an ardent fan of Bollywood then you will find Krishna Abhishek's filmy lines where he uses actors and film title to communicate with Akshay extremely engaging! Akshay is in top form and his comic timing with Krishna is impeccable. The ensemble that comprises of Sonu Sood, Prakash Raj and Johnny Lever are able to give the right support to the main leads. Songs are hummable, especial Tera Naam Lu and the last track Veeray di Wedding. The dog is a major highlight of the movie and his scenes in the first half with Akshay stand out for their brilliant execution. Tamannah plays her part with sincerity and her pair of with Akshay is fresh.
What's not: The first half takes time to build. There is a lot of unnecessary drama and dialoguebaazi that doesn't lead to anything. Also at times the jokes and gags seem repetitive and monotonous. If you aren't a movie buff or fan of slapstick then you might not enjoy this palate of humor.
What to do: Entertainment has enough jokes and one liners to keep you entertained. Watch it for Akshay, but also for the real star, his four legged companion who will steal your heart with his cuteness!
Rating:
out of 5
Reviewed by Tushar P Joshi
* Poor
** Average
*** Good
**** Very good
***** Excellent