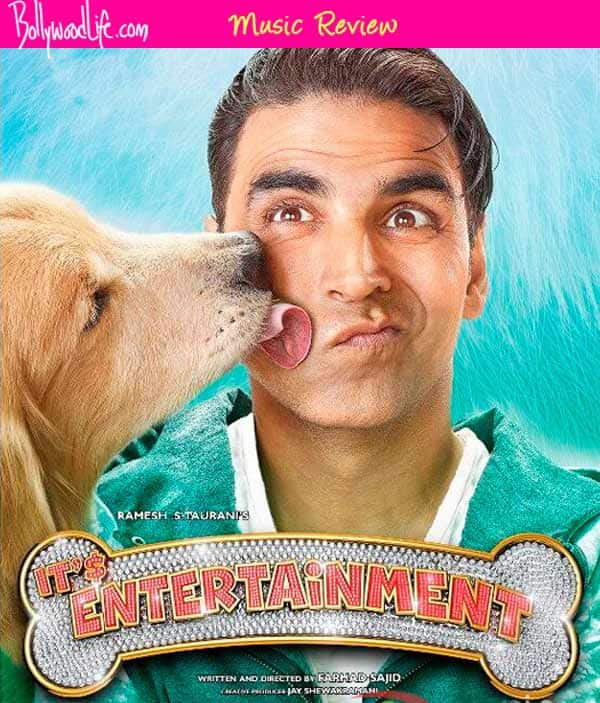 Music: Sachin-Jigar
Lyrics: Mayur Puri , Priya Panchal , Ashish Pandit
Singers: Mika, Atif Aslam, Udit Narayan, Shalmali Kholgade, Anushka Manchanda, Madhav Krishna, Priya Panchal and Jigar
Akshay Kumar is back on the silver screen with Entertainment following the success of  Holiday. The film will see him opposite Tamannaah Bhatia. From the promos of the film, it seems like a full-on slapstick comedy and a treat for all dog lovers. Music however, breaks the monotony in this slapstick comedy. Let us have a song by song music review and find out whether the songs impress us or not.
Veerey Di Wedding: Sung by Mika, this is a typical Punjabi wedding track. The lyrics by Mayur Puri are witty and sure to stick for sometime with the new generation. Sachin-Jigar need to applauded for bring on this catchy composition. Though it isn't a typical bhangra number, which people usually expect when such lyrics are there. The song is quite disco-worthy as it has that western feel to it. There is also a remix version of the song, which could have been.
Tera Naam Doon: Sung by Atif Aslam and Shalmali Kholgade, this is a breezy romantic melody. It is Atif's fantastic voice that makes this smooth composition quite likeable and easy-on-the-ears. Together with Shalmali the duo manage to impress the listener with a hummable melody. The composition is nothing extraordinary but will find popularity due to its simple yet hummable lyrics by Priya Panchal and Atif's vocals. There is also a sad version of this track, which is called Nahin Woh Saamne. That song is short and doesn't make that impact. However, Atif has given a descent solo rendition to that as well.
Johnny Johnny: Sung by Jigar, Madhav Krishna and Priya Panchal, this song makes the most of whacky lyrics. The lyrics by Mayur Puri have not only managed to convert this age old nursery rhyme into a dance number, but also managed to impress us pretty much. This song is pure entertainment for the listener and is a must have in all music players.
Teri Mahima Aprampaar: Sung by Udit Narayan and Anushka Manchanda, this song gives you a retro feel. The song solely lives high on the vocals of Udit Narayan and doesn't have anything better to offer. This song might be good to watch in the film but will definitely not be on your playlist for long.
Verdict: Sachin-Jigar have done a decent job for Akshay Kumar's Entertainment, which has some good songs. However, it is the lyrics that stand out in the album as they have been very well penned.
Our Picks: Johnny Johnny, Tera Naam Doon
Rating:
out of 5
Reviewed by Prateek Sur
* Poor
** Average
*** Good
**** Very good
***** Excellent