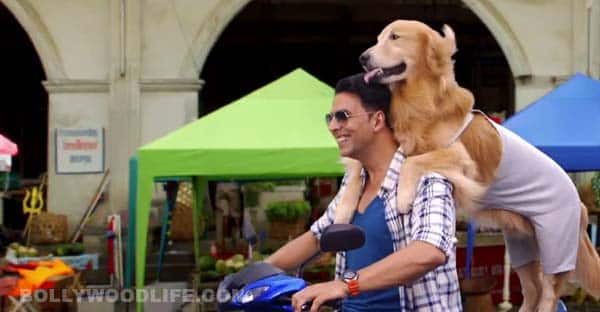 The movie is a visual treat to all pet lovers and will be majorly loved by kids
Akshay Kumar's Entertainment releases tomorrow and we were all very excited, just like you all, to know what would the story be all about. The movie posed to be a visual treat to all the pet lovers. Also, it is an Akshay Kumar film who is coming back to the big screen after the Rs 100 crore hit Holiday. So there were huge expectations from the film. Our reviewer Tushar Joshi is presently watching the film at the theatres and here is what he says about his first impression of the film.
He says, "Entertainment starts off on the right note with Akshay Kumar and Krushna Abhishek creating some genuinely hilarious moments. The humor is in the dialogues and writing. Attention has been paid to use pun, sarcasm and references to Bollywood films and actors in the script. There are lines that are really hilarious while some will make you cringe. Example, Jaisi karni vaisi Mamta Kulkarni. You have to be a die hard Bollywood movie buff to get the tongue-in-cheek humor. The major attraction of the film is the dog named Entertainment. Kids will love the scenes where Akshay tries to con the dog. There is ample slapstick to keep those who love the genre. Akshay and Tamannah look good. Krushna Abhishek's comic timing is on point. Sonu Sood and Prakash Raj along with Johny Lever add to the humorous track. Sajid-Farhad have used every element of the industry jokes to create funny scenes. The music especially Tera naam  doon track is a huge highlight."
Read the complete review of Entertainment here.