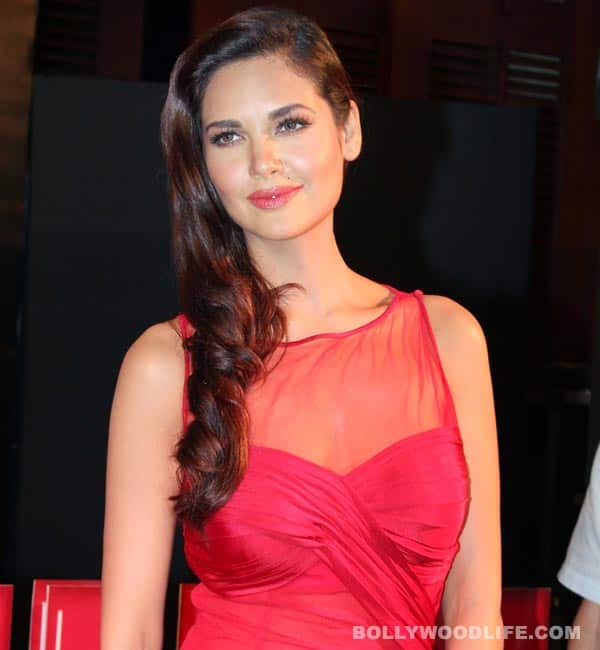 The Jannat 2 actor has no insecurities as far as her acting career is concerned. Before she joins the big league of regular commercial film actors, she wants to perfect her craft by doing an array of roles
Casually dressed and sans makeup, it was difficult for us to spot Esha Gupta among the teeming journalists, who were present to grill her about her forthcoming film, Raaz 3. Her sense of humour, her toothy giggle and frank opinions made the conversation a riot! Esha shared with us the details of her cat-fights with costar, Bipasha Basu, her love for Emraan Hashmi and her disagreements with director Vikram Bhatt. Over to the bindaas babe.
Did life change after the success of your debut film, Jannat 2?
I don't think movies can change lives. I am the same person that I was before. I still hang out with my friends and do what I used to. My friends warn me, saying I shouldn't be that carefree. I don't pay any heed to them. But yes, every now and then, somebody recognises me as that girl from Jannat 2. The one thing that did change was that I have become very busy. I hardly have time for family and friends. The last time I spent time with my family was in last December. They were here briefly when Jannat 2 released, but that's it. My day starts at 5:00 am and ends at 10:30 pm. There is so much to do – shooting, workouts, meetings, narrations and interviews… phew!
After a commercial hit in Jannat 2, didn't you think that doing an edgy film like Raaz 3 might be a risky proposition?
With only one film to my credit, I think I am at a stage where I am learning the acting process. When I showed up on the sets of Jannat 2, I had no clue of what I was doing. Back then, there would be so many retakes, but Emraan (Hashmi) was always there. He would help me with my scenes and guide me every now and then. When I got really depressed Mahesh sir (Bhatt) would tell me that I was better than Emraan in his early films. Emraan needed about forty takes to get a scene right. That made me feel relieved, at least I wasn't that bad. (Giggles)
Right now I want to discover Esha Gupta the actor. In my first film I played the role of a middle class doctor working for a charitable hospital, and in Raaz 3 I play an actor who has tasted stardom early in her career. In Prakash Jha's Chakravyuh, I am playing a cop. Each of the roles is different. I don't know if it is appropriate to call it a risk. The real risk will be when I know that this is Esha's comfort zone and then I do something out of the box. For now, I am simply picking the best of what is coming my way.
Being an outsider, how has the industry treated you?
My dad was in the Indian Air Force, so I would be an outsider in any other career that I would have chosen. (Laughs) But yes, I am really thankful that I have been accepted. I will always be grateful to the Bhatts for believing in me, because I for sure didn't think that I could pull it off. (Smiles)
You sizzled and scorched in Jannat 2 and your role in Raaz 3 also looks bold. Aren't you wary of being typecast?
What is bold about it? I think Vidya Balan was bold in The Dirty Picture. She was bolder in Kahaani. I think these are bold choices.
Are you comfortable doing skin show and intimate scenes?
Yes, but only if the script demands it. And what is the point of being an actor if you have such reservations? You might as well wear a sari and sit at home. Having said that, I wouldn't wear a bikini and be seen sitting in a room. If I am at a beach, it would only be appropriate that I wear a bikini. Also, it wasn't that I didn't know what I was getting into. I was told by the director about what lay ahead.
It was reported that there was a rift between you and the director regarding some intimate scene?
No, there was no such rift between me and Vikram (Bhatt), as reported in the media. I love Vikram. He had more faith in me than I had in myself. The scene in question is very essential to the film, and Emraan and Vikram were very nice to me. They kept reassuring me that I could do it. There is a certain way the Bhatts make films. Their movies are targeted at people who spend their hard earned money to find an escape from the real lives. The audience wants to be entertained and the Bhatts understand that far too well.
So, did you agree to do Prakash Jha's Chakravyuh to avoid being typecast, after Jannat 2 and Raaz 3?
It wasn't a conscious choice that I made. Chakravyuh just happened. The Bhatts make a certain kind of cinema and Prakash Jha's films have a political undertone. I am a politically aware citizen, not that I will jump into politics anytime soon. (Laughs) When I read the script of Chakravyuh and discovered that it was about the Naxal movement, I was intrigued. Also, my role of a Superintendant of Police was a very interesting one, so I had to do that film.
Don't you think there are too many films being made about the film industry? First, The Dirty Picture, then Heroine and now Raaz 3… Don't you think it is getting too much?
I think it would be unfair to say so. Just like all romantic films aren't the same, similarly every film about the film industry is not the same. The Dirty Picture, Heroine and Raaz 3 are all different genres.
Tell us about the experience of working with your costars, Emraan Hashmi and Bipasha Basu.
I love Emraan (Hashmi). He was my first costar and he will always be very special to me. He is my mentor and has always given me tips from his experience. He is very talented and it seems that acting is cake walk for him. While I struggled with my lines and sometimes got tongue tied, he would easily deliver the goods. And what can I say about Bipasha? Bipasha is Bipasha. Like me she was once a model, an outsider in the film industry who has made it on her own terms.
The best thing about Bipasha is that she is a grounded person. Though I didn't have many scenes with her, from whatever time I got to spend with her, I can easily say that she is a very nice and warm human being. After all she has been around for so long. If she wasn't a really nice person, how would her meteoric rise be possible? The real challenge for me was to match up to Emraan and Bipasha. They are both right up there. My mediocre performance might have ruined the film. It would be a letdown to the script as well. I would like to give a lot of credit to my director, who extracted the best from me. Even I didn't know that I could pull something like this off!
Considering that the other two Esha's of Bollywood (Deol and Koppikar) didn't have a really flourishing acting careers, did you ever consider changing your name?
Absolutely not; I am from the Arya Samaj and I have been named by my grandmother. The names were picked from the religious scriptures. My name has brought me this far in life, I will never even think of changing my name.