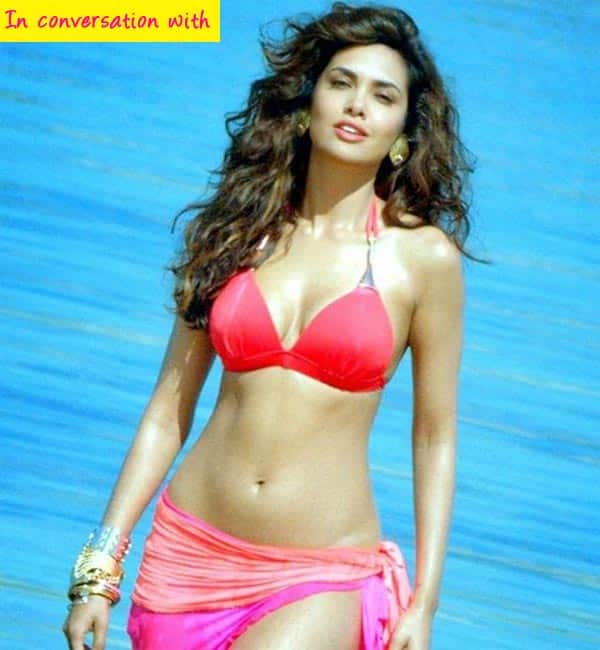 The ravishing beauty Esha Gupta gets candid about Humshakals, comedies, Bhatts and bikinis
She is a Bhatt camp heroine but with Humshakals Ms Gupta is moving out of her favourite territory and comfort zone. Is she nervous? Hell no!
We all know Esha Gupta is talented and very sexy. But when we recently caught up with the dusky beauty, we realised she is goofy too and in a good way. Dressed in a jeans and a casual shirt, Esha sat with us to talk about her upcoming multi-starrer comedy Humshakals which stars Saif Ali Khan, Riteish Deshmukh, Ram Kapoor, Bipasha Basu and Esha Gupta. Directed by Sajid Khan, this comic caper will hit the theatres this Friday. While the B-town starlet looked confident about her latest venture, we asked her about catfights on the sets, her male co-stars dressing up as women and why she has no qualms about donning a bikini. Read on to know what she had to say…
This is the first time that you're working with Sajid Khan. How was your experience?
I think he is really funny. The kind of films that Sajid does is coz that's the kind of person he is. And it's not easy making slapstick comedy. Even if you're sitting on a table, Sajid will crack a joke and you would be like "Really Sajid? It's enough." That's how he is in real life. So I am really glad that is out of the Himmatwala phase and back to what he is really good at.
Sajid's last film Himmatwala didn't fare well at the box office. So weren't you apprehensive about working with him?
One flop doesn't mean the director is a flop. Just like one flop doesn't mean you don't want to give an actor another chance. Everyone has their good days and bad days. Okay, so he made a bad film big deal. At the same time, he gave two good hits – Housefull and Housefull 2. They were massy commercial films but they were funny as well. So that's why when Sajid approached me for Humshakals, I said, "Yeah, I wanna do the film."
You were part of several Bhatt films before this and they don't make larger than life movies. And now you're doing comedy. So how different is it – Being a Bhatt heroine and doing comedy?
I can't compare or differentiate between these two things. I love Bhatts and they are practically like family to me. Mahesh Bhatt has been my mentor. I started my career with him. We sit, talk and I have the most argumentative discussions with him. That's the kind of equation I share with the Bhatts so I can't really differentiate or compare it with doing comedy movie with Sajid.
Recently you did a sexy photo shoot for ELLE magazine and you looked comfortable in a bikini unlike other B-town beauties. Otherwise too you're so comfortable, how's that?
I mean, if you're showing a beach scene, what else would you wear? That's my whole concept. From the family where I come from – if you speak English wearing jeans and t-shirt it means you belong to the western culture. So if you're in a pool or beach side, you'll either wear a swim suit or bikini. Those days are gone when you would wear a saree on the beach. And that's how I am cool with wearing bikini – be it for a photoshoot or a movie. So… yeah I don't really care coz what else would you wear? But you have to be comfortable also.
So you agree with the adage 'If you have it, flaunt it'?
Why not? If you have it then flaunt it. Also, you can wear a jeans and t-shirt, be fully covered and still look awkward coz that's not you being in your own skin. You can wear whatever but you have to be comfortable in it. If you're not it means you're pretending to be someone.
Coming to Humshakals, you're working with two other female co-stars in the film – Bipasha Basu and Tamannaah Bhatia. So were they any catfights on the sets?
I met Tamannaah on the first day of Caller tune shoot. Bipasha was not shooting that day for the song. I am not in the song but they took me only for the promo cut. So I met Tamannaah and we kind of hit it instantly.  We were talking and Tamannaah told me that she had just gone on a diet and I told her that I can't diet and I was having a slice of pizza. And that's when Sajid came and was like "guys please fight, there is no gossip." There was never a clash coz we both of us are two different personalities. She is too girly and I am not girly at all. So we are so different that we never really had problems with each other. And I must say Sajid knew how to differentiate our roles as well. What was told to me when I met Vashu ji ( Producer Vashu Bhagnani) and Sajid, was given to me. Sajid told my role, what is my character and how many scenes I have.
But did you feel any competition?
Not really… coz our characters are also very different in the film. So nothing really clashed.
No even from the male co-stars who were dressed as women…
(Laughs) I think they were more conscious then we were. And Ram Kapoor was the biggest (pun intended) surprise for us. It was really funny to see him walk in a bikini. Poor Ram, he was talking his wig off and saying 'I can't take it, it's so hot'. Saif Ali Khan on the other hand wanted to be big and voluptuous… if you know what I mean (smiles). Even Kareena Kapoor was on the sets and she kept laughing. And the only thing Said kept doing was pouting. Riteish (Deshmukh) had played a girl before in his film. So he was so into his character that he wanted everything to be perfect. He even came to my make-up artist and asked if he had this particular nail colour. But thank god all the men got waxed for some reason at least. Though I think they really enjoyed the whole process.
This is your first comedy film so what you have to say about your sense of humour?
Well, people should tell me what they think about my sense of humour I guess. So you guys tell me (smiles)