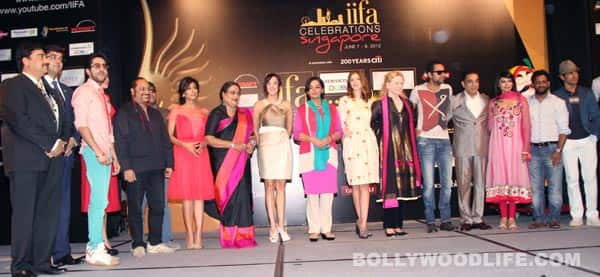 Cineswami wonders what the hype and hoopla about the IIFA Awards is all about
The annual pointless celebrations that are the International Indian Film Academy Awards (IIFAs) are back in Singapore. After their much-publicised rift, the Bachchan clan (Amitabh-Jaya, Abhishek-Aishwarya) will not be dancing attendance for the third year in a row. Shahrukh Khan and Saif Ali Khan will also not be present. Aamir Khan doesn't do awards ceremonies anyway, unless they are organised by a foreign organisation. So the IIFAs this year opened with Dibakar Banerjee's political thriller Shanghai, starring Emraan Hashmi, Abhay Deol and Kalki Koechlin.
Of the lot, Hashmi is by far the biggest star. But he stayed away pleading illness whereas in reality he was in deep discussions in Mumbai with Karan Johar for a film to be directed by Rensil D'Silva. Still, even this motley collection of stars has excited envy in the industry. Tanuj Garg, CEO of Balaji Motion Pictures, the company that made The Dirty Picture, tweeted thus: "On a radio station, some supposed fan-types drooling buckets at the sight of stars & non-stars at an overseas film jamboree. Eww." Poor guy, maybe they didn't send him an invite.
Sabbas Joseph, Director, Wizcraft Entertainment International (the event management company that runs the IIFAs) said, "The IIFAs have returned to Singapore for the second time, we are back to recreate the magic after the successful celebration we had in 2004. This weekend, we will showcase the cultural abundance and impeccable cinematic talent of Indian Cinema on a global dais. We are excited and confident that this year too will be grand, spectacular and memorable. As always, we stand committed to our objective of building a bond with our host countries that further translates into business opportunities." Ergo, he'll make a ton of cash off the Singapore government. And exactly how featuring the likes of Ferrari Ki Sawaari and Maximum at a convention centre in Singapore will showcase Indian talent on a 'global dais' is anybody's guess. The awards themselves are a bit of fluff, coming as they do after all the major Indian awards ceremonies.
Meanwhile, we have a new contender for the title 'Raja of Raunch'. It's none other than Prakash Jha. Yes, the same Prakash Jha who gave us the grim Damul and several gritty politically charged films. In his latest film Chakravyuh, Jha has an item song that features Abhay Deol cavorting in gay abandon with a bunch of dancers playing tribals. It's supposed to be high on the sizzle quotient and Ganesh Acharya has choreographed it in a manner that quickens the pulse. We can't wait.