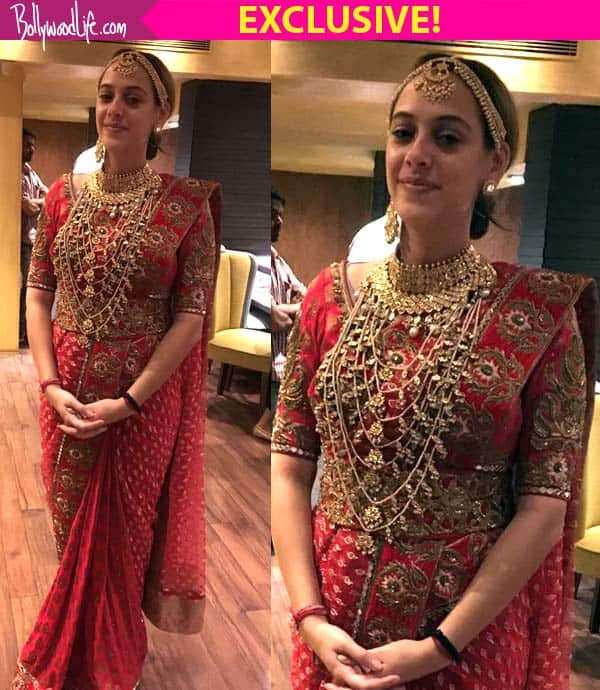 Hazel Keech, oops sorry, Gurbasant Kaur, is all set for her Goa wedding with beau Yuvraj Singh. The couple, who married two days ago in traditional Punjabi style will now be remarrying in Goa. It was revealed that the couple were to have a Catholic style wedding considering how Hazel's familial roots. The first look of the model turned actress is out and we exclusively got our hands on the same. The diva has been styled by Salman Khan's stylist, Ashley Rebello. As you can see, the diva is draped in a gorgeous red saree. With some pretty patterns on the saree, she has once again kept it simple. There is a lot of gold in her ensemble starting from her saree to her jewellery.
This is just a sneak peek of what the diva is going to wear for her wedding. Just like her ethnic avatar as a Punjabi bride, she is channeling the auspicious red hue through this saree as well. The makeup hasn't been done yet as you can see it for yourself. She has only draped herself in the beautiful red saree along with the jewellery. Makeup, hair and other accessorising is still left. We think this look is going to be fab as learning from her Chandigarh avatar, we can tell that she likes to keep it simple and subtle. Already as you see the outfit, it's simple but radiates the wedding-y feeling that it should. Her jewellery does seem a bit too much but maybe we'll get to know once we get our hands on her complete look. (ALSO READ: Yuvraj Singh and Hazel Keech's Brit avatar on this latest mag cover is panache at it's best)
As we reported earlier, Yuvraj and Hazel are now married. They tied the knot in Chandigarh, Punjab. They are in Goa right now, gearing up for their wedding (once again, yes!). For the Goa wedding, a lot of Yuvi's cricketer buddies will be attending the event. We just shared pics of Virat Kohli with his ladylove happily making their way out of the Goa airport to the location. If you guys stay tuned to this space, we'll update you with what Yuvraj has donned as well! Plus, needless to say, a complete pictorial piece shall be shared as well as and when we get it!
If you haven't seen her ensembles from sangeet and wedding, you can always click here. What did you think of it? Drop in your thoughts in the comments section below.
Virat Kohli and Anushka Sharma leave for Goa to attend Yuvraj Singh and Hazel Keech's Hindu wedding ceremony

We spotted lovebirds Virat Kohli and Anushka Sharma leaving together to attend Yuvraj Singh and Hazel Keech's Goa wedding ceremony. The couple was all smiles as they accompanied together and the picture is enough to shut up all the rumours about differences brewinchetang between them

Image credit: Twitter

Virat Kohli attended Yuvraj Singh and Hazel Keech's Sangeet Ceremony

Indian cricket team is currently hosting England for the Test match series. Just recently as India defeated England in one of the Test matches, team captain Virat Kohli was able to attend his good friend Yuvi's sangeet. While the rest of the team members will join him for the wedding reception today, Virat made sure that he attends the Sangeet as well.

Image credit: Facebook

Virat Kholi looked absolutely handsome in the blue kurta

Virat Kholi was present in the Sangeet Ceremony of Yuvraj Singh and Hazel Keech. Virat was seen having a blast at the event and was there for Yuvraj Singh and was seen dancing for them.

Image credit: Facebook

Yuvraj Singh and Hazel Keech were twinning at their Sangeet Ceremony

As you can see both Yuvraj Singh and Hazel Keech were twinning at their Sangeet ceremony yesterday. They both were dressed in Royal blue velvet attire and we are the sure the guests were in complete awe of them. This Chandigarh wedding will be a traditional one followed by another one in Goa. The couple decided to go for both the rituals since they wanted to respect the sentiments of both the families.

Image credit: Facebook

Anushka Sharma is rumored to attend the reception of Yuvraj Singh and Hazel Keech

If reports are to be believed then the star batsman will be joined by his ladylove Anushka Sharma for the wedding reception.

Image credit: Facebook

Anushka Sharma is definitely on Yuvraj's guest list along with Virat Kholi

The couple, who are not shying away from the paparazzi since they have patched up, were also spotted by their fans chilling in Chandigarh. According to reports, Anushka and Virat are definitely on Yuvraj's guest list.

Image credit: Facebook

Yuvraj Singh's good friend Angad Bedi was by his side throughout the ceremonies

Yuvraj Singh is extremely close to Bollywood actor Angad Bedi. We have earlier seen Yuvi celebrating Angad's birthday with fiancee Hazel few months back. So when this actor is so close to this star cricketer, it is an obvious fact that he'll attend all the pre wedding functions. In this picture particularly we can see them celebrating his Haldi ceremony which was oragnised this morning.

Image credit: Facebook