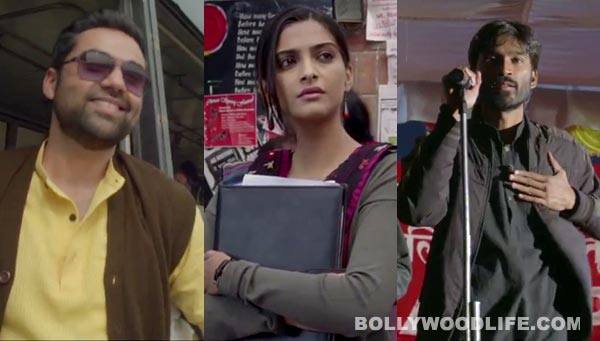 We know what exactly happens to Abhay Deol and Dhanush in their upcoming love triangle. Curious? Read on…
Aanand Rai's romcom Raanjhanaa releasing next week is one of the most awaited films of the year for several reasons – the popular Kolaveri di singer and South star Dhanush marks his Bollywood debut and he'll be sharing screen space with Abhay Deol and Sonam Kapoor in his first outing. The film is basically about the lead couple – Sonam and Dhanush – students from Benaras. Dhanush is madly in love with Sonam since childhood but he's worried about Abhay (who plays a struggling politician) snatching Sonam away from him.
Though it comes across as a time pass, musical entertainer with Dhanush pataoing his ladylove, the excitement around the movie is not just about that. Our well-trusted khabroo tells us that Aanand has come up with a foolproof plan to ensure that his movie doesn't look like a ghisa-pita love triangle and gets a good opening.
SPOILER ALERT: Sonam Kapoor gets irritated with Dhanush who keeps following her everywhere. There comes a point when she can't take it anymore. And…we don't know what leads to it, but Dhanush dies and so does Abhay Deol in the climax. Now, why the two lovers give their lives away and leave Sonam all alone – for that, we gotta watch the film and we can't wait for it to hit the screens on June 21!