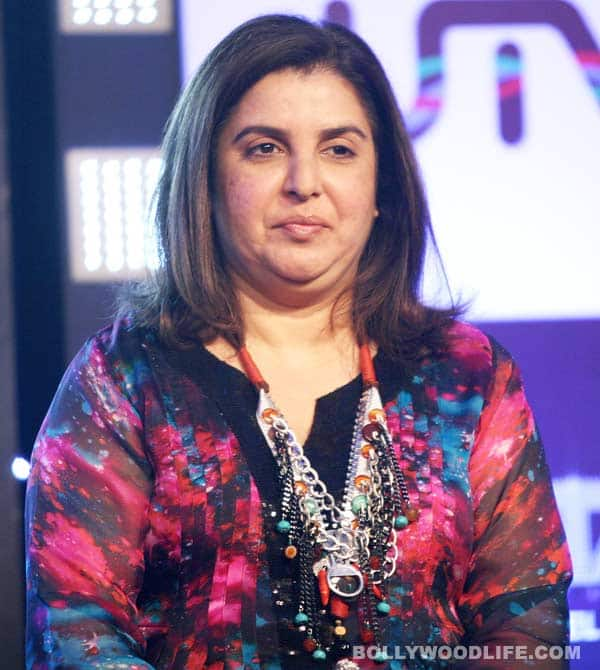 But Bela Sehgal's Shirin Farhad Ki Toh Nikal Padi changed that…and much more
Farah Khan was in a rush to board her flight to Goa. But we managed to stop her just as she stepped on to the walkway into the plane and quiz her about Shirin Farhad Ki Toh Nikal Padi. She was willing to give us all of the five minutes she had before she had to turn her phone off – which was more than enough for her to say a great deal – and she bared her soul about what was going through her mind at that moment. And mind you, she said it all in a way only Farah Khan could….
Never again acting…
"I am more nervous than excited, because it came as a surprise to me. I was not at all prepared for it," the budding actor revealed when quizzed about the butterflies in her stomach. And without a further nudge she said, "I don't want to be an actor ever again." Uh-ho! Then what about the sequel to SFKTNP that's been making a buzz for a while? "Woh jab hoga, tab hoga. But I don't ever want to act again," Farah stays put on her stance. Sigh!
Here's what's wrong with being in front of the camera…
But even as we nursed our broken hearts and shattered expectations with regards to Farah's no-more-acting decision, we couldn't help but ask her about the experience of being in front of the camera. "Oh, it was stressful! One has to look good and enthusiastic at all times. Even when it was 5.30 in the morning, I had to look nice. 'Coz on the big screen there won't be a subtitle saying, 'It was early in the morning so I am not looking good.' And it's too much hard work. Being behind the camera is hard work too, but as a choreographer and director I never cared about my looks. Now it's different."
Then came Boman Irani to the rescue…
Yes, Farah's acting debut might have been very stressful, but she is thankful that she had Mr Irani to lean on. "He was/is a very good man. And when I say I don't want to do any other movie, that's because it might not have Boman," the actor said. But apart from the 'awwww' inducing chemistry, here's why Farah says she was happy to have Irani by her side – "He helped me improvise, corrected me, supported me. He was not at all insecure about the amount of screen space he had to share." Whoa! Now that's genuinely nice, no? And Farah sums up their partnership with, "There would be no Shirin without Farhad and no Farhad without Shirin."
The buzz about Farah – the item girl
We all are itching to see the bubbly lady wear some sexy clothing and be a proper item girl. But is Farah really doing that? "It's not an item number. It's just a promotional song. And it's being choreographed by Geeta Kapoor, my assistant of 18 years, who also judges Dance India Dance." Sigh! That was the sound of more shattering…
Farah not working hard on the treadmill just for the movie…
For all those who thought that Farah had huffed and puffed, embraced diets and gone ahead with that tummy nip and tuck to get into Shirin Fugalwala's clothes, here's news – "I lost weight after the movie! In SFKTNP I am a 40-year-old Parsi lady who has put on weight. So in the movie it wasn't about my figure or how I looked," she reveals. Eh? Then why the sudden figure consciousness? "When people watched the promos, they said I was looking cute. But that's not how I reacted to it. When I saw myself on the screen I said, 'I can't be looking like this!' So fat!" Farah clarifies. Hence the determined effort to achieve her current trim shape.
The fuss about Farah Khan, actor
Much has been said about the lady going many extra miles and stepping into new shoes with Shirin Farhad Ki Toh Nikal Padi. But that's not what FK wants. "The filmmaker Bela Sehgal took so much effort to make a movie that has more than 140 actors in it and I think that should be encouraged."And then she rattled out a quick 'bye' and shot into the plane to join her triplets.
Point noted, dear Farah! And even when we know that you are trying to run away from anything that even remotely resembles acting, we really hope to see you in the sequel to SFKTNP. And you'll do it, right? C'mon, if not for us, at least for your darling co-star, Boman Irani. Wink, wink.